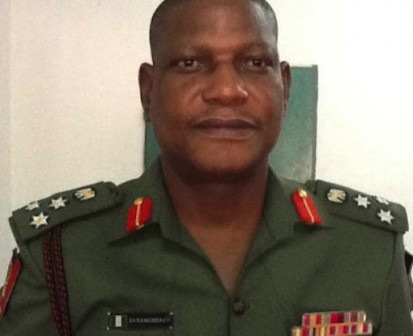 The Nigerian Army, on Thursday, sent Beko Ransome-Kuti's son, Brigadier General Enitan Ransome-Kuti, to six months in prison. It was as a result of the court martial that he and others faced over offences they were accused of in fighting insurgency.
However, the sentence is still subject to confirmation by the Nigerian army and if it does not quash it, Ransome-Kuti may be sent packing also from the Army. On the other hand, the Army may send the judgement into the shredder and the officer will, as a result, be a free man.
The Army authorities charged him with shirking his duties against Boko Haram, leading to the brigands taking over the north eastern town of Baga. He was also accused of failure to, according to saharareporters, "account for the weapons and ammunition under his supervision, rendering the army useless in the fight against Boko Haram."
While the officer pleaded not guilty, his lawyer, Femi Falana, proved that, apart from the military high command failing woefully to equip its officers and men, a situation that rendered them impotent, he cited submissions by army officers and the rank and file, complaining that they were poorly equipped to fight the insurgents.
Moreover, a former Chief of Defence Staff, Alex Badeh, shortly corroborated this position after leaving service.

Load more