Kazeem Ugbodaga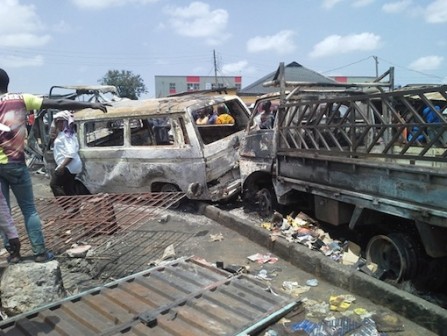 The Lagos State Emergency Management Agency (LASEMA) has decried increasing rate of fire outbreak in Lagos.
The agency charged all Lagosians to be safety cautious by guarding against fire outbreaks in homes and offices across the state.
The General Manager of the Agency, Mr. Michael Akindele, who gave the charge in Lagos, Southwest Nigeria, expressed dismay over the frequency, saying that "our people should be passionate about their lives and that of their loved ones by embracing safety culture in every aspect of their daily activities".
The General Manager disclosed that the increase in fire incidents across the state could be attributed to stable electricity supply with the attendant effect of high pressure on old electrical fittings that should have been replaced with new and standard ones.
He also traced the outbreaks to the use of non-professionals in carrying out electrical installation on buildings, usage of substandard materials and carelessness to always switch off electrical installations and appliances after office hours or when not in use at homes.
Akindele noted that his Agency, in collaboration with other stakeholders, has commenced sensitizations of people on the prevention of fire outbreaks through the distribution of handbills, jingles, interview on both television and radio stations, and town hall meetings.
He further stated that the government would soon extend the sensitization programme to the three senatorial districts across the State to educate Lagosians on safety issues, prevention of fire and other emergencies such as flooding, road accidents, hanging on train coaches as well as building collapse.
The General Manager explained that LASEMA is working with all first responders such as the Lagos State Fire Service, Lagos State Ambulance Service, Nigeria Police, Neighbourhood Watch and the Nigerian Security and Civil Defence Corps for quick and immediate intervention in emergency situation anywhere in the state.
He, however, implored Lagosians not to hesitate to contact the relevant authorities in the event of any form of emergency/disaster through the emergency toll free line 767 or 112.

Load more