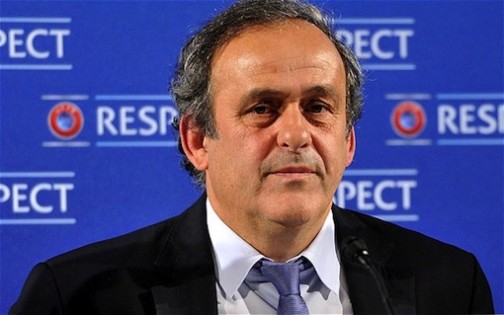 UEFA President Michel Platini on Monday in Paris, France said the two million Swiss francs ($2.1 million) he received from FIFA was a legitimate reward for genuine work.
Platini told newsmen that the money was for work he did for FIFA President Sepp Blatter from 1998 to 2002.
He also reaffirmed his determination to run for FIFA presidency even though controversy over the payment had cast a cloud over his bid to become president of the world football body,
NAN reports that most of the payment, which is being investigated by the Swiss authorities, was only made in 2011.
However, Blatter and Platini have denied any wrongdoing over the affair, which is just one of the controversies roiling the scandal-plagued FIFA.
Platini provided an extensive account of how that advisory work and related payments were agreed with Blatter.
He said he had never been good with finances and that he had even short-changed himself in the case in question.
Platini said he had asked for one million francs a year for the work.
He said the work included reform of the global competitions calendar, work on subsidies for the poorest federations, funding for football projects and a lot of travel with Blatter.
"I've not used lawyers or negotiating agents for ages. It was a man-to-man thing," the French football legend said.
Platini said Blatter had explained that his contract would stipulate an annual sum of 300,000 Swiss francs because that was the top salary rate at FIFA at the time.
He said that the rest of the agreed one million a year was to be paid at a later date.
Over four years, such a catch-up payment would have totaled 700,000 francs a year, or 2.8 million Swiss francs.
"When years later I was asked to send a bill for money still due to me, I mistakenly remembered a contract salary sum of 500,000 Swiss francs a year rather than 300,000," Platini said.
He therefore sent a bill for a total of only two million francs for the four years in question.
Blatter and Platini were suspended for 90 days on Oct. 8 after Switzerland's Attorney General's office initiated criminal proceedings against Blatter over the 2011 payment to Platini.
He, however, played down the impact of the controversy on his election chances.
"I don't think I've lost many votes, and people who know me know I can look at myself in the mirror.
"I'm bullet-proof, I just hope I'm not going to be prevented from running.
"They are just upset that a footballer rather than a pure politician wants to run things.
"Well, I don't like losing. Above all, when it's over an issue that isn't an issue," the UEFA president said.
Competing against Platini for the FIFA presidency are Jordanian Prince Ali Al-Hussein and former Trinidad and Tobago midfielder David Nakhid.
FIFA was plunged into the worst crisis in its history with the indictment by U.S. authorities on May 27 of 14 football officials and sports marketing executives.
The U.S. and Swiss authorities are running corruption investigations which include examining the award of the 2018 and 2022 World Cup finals' hosting rights to Russia and Qatar respectively.

Load more