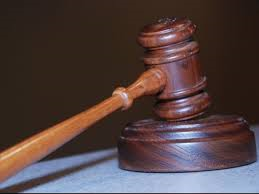 A trader, Elijah Kingsley, 37, on Wednesday appeared before an Ogudu Magistrates' Court in Lagos State, charged with hypnotising a woman and dispossessing her of N700,000.
Kingsley, who lives at 4, Fadayomi St., Ojota in Lagos, is facing a three-count charge of conspiracy, obtaining by false pretences and stealing.
The Prosecutor, Sgt Lucky Ihiehie, told the court that the accused committed the offences sometime in November 2014 at Ojota Bus Stop.
He said that the complainant, Beauty Emmanuel, a student, had on Oct. 19 come to the Ojota Police Station to report the matter.
Ihiehie said the complainant reported that sometime last year along Ogudu Road, she met the accused with another man who claimed to be a foreigner.
"The foreigner told her he had goods like laptops and phones for sale and that he needed chemicals to wash some dirty monies.
"The complainant said that she entered into conversation with the fraudsters as they tried to convince her to provide money, adding that at that point, she became unconscious of what happened to her.
"She gave them N27, 000 on the spot and from there they started collecting more sums of money from her.''
Ihiehie said that the fraudsters later told her on phone that they were washing a large amount of money and that she needed to give them an additional N500,000 to buy more chemicals to complete the exercise.
"They also warned her that if she revealed this secret to anyone, she would vomit blood and die.
"The accused kept on mounting pressures on her until she paid the money.
"The accused also introduced an alleged fake `pastor' to the complainant who told her that she was possessed by an evil spirit that would kill her unless she had an amorous relationship with the accused,'' he said.
Ihiehie told the court that the complainant said the "pastor'' insisted that she slept with the accused without protection so that his semen would cleanse her of the evil.
He said that the accused regularly had carnal knowledge of Emmanuel and further collected N200,000 from her.
The prosecutor said that after several months, the accused called the complainant on Oct. 19, to demand more money again.
Ihiehie said that Emmanuel reported the matter at the police station and the accused was, thereafter, arrested.
The prosecutor quoted the complainant as saying that she knew something was wrong with her while acting on the instructions of the fraudsters.
She said that she was too weak to understand anything until she got help from a friend, Ihiehie said.
The Prosecutor said the offences contravened Sections 409, 312 and 285 of the Criminal Law of Lagos State, 2011.
Meanwhile, the accused pleaded not guilty.
The Magistrate, Mrs Sule Amzat granted bail to the accused in the sum of N200,000 with two sureties.
She said the sureties must be gainfully employed with proofs and the court prosecution must verify their addresses.
Amzat adjourned the matter till Nov 16.

Load more