Eromosele Ebhomele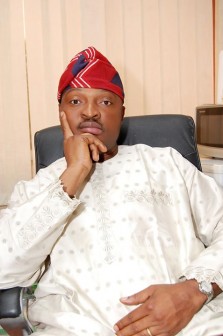 A senior member of the Lagos State House of Assembly, Moshood Olarenwaju Oshun, has disclosed that since becoming a lawmaker in 2007, he has provided between 60 and 80 jobs for residents of the state.
Oshun, who represents Lagos Mainland Constituency 2, made this known at the Assembly complex where he received heads of parliaments of all tertiary institutions in Lagos, who paid him a courtesy visit and also presented him with an award for being the most youth-friendly lawmaker in the state.
The lawmaker however lamented that despite this feat he has been able to record in the area of job creation in the face of rising unemployment, it was still baffling to realise that some youths in the country no longer want to work.
According to him, the get-rich-quick mentality has enveloped many young men and women resulting in an increase in social vices and criminal activities.
"The youth are losing focus and what should be priority is no longer there. We are loosing what should be our pride," he said recalling how he grew up with focus on education and the competition between him and his mates to outdo one another in school.
"Today, the youth now compete with smoking and drinking," he said.
He said today's tertiary institutions have become a den where cult members compete for the best guns and other weapons rather than focus on their studies and become useful and important figures in the society.
"Now, the youths only think of driving the best cars and living in the best houses, but they don't want to work hard.
"And when you are not ready to work hard, then you would steal. That was how robbery, yahoo-yahoo (advanced fee fraud) and the others came into existence.
"If you see those engaging in yahoo-yahoo today, they are young chaps who visit the best clubs and drink champaign because the next maga would come.
"I once had an opportunity to get someone a job and six people rejected the job because they were comfortable with waiting for the end of the month to get paid. They also did not want to be seen wearing uniforms. It was the seventh person who picked the job.
"We have people looking for job, but those who have been provided jobs, how have they fared?
"You see someone who has been provided job and within two years, he is thinking of defrauding the company and ruining its fortunes?
"How do you also explain the concept of jobs to people who wake up in the morning only to sit down close bottles of alcohol?
"These days, it is difficult to find a woman who is ready to build a home with a man. Women now ask how rich a man is before dating him. And that's why you now find corpses everywhere with various parts cut off for ritual purposes.
"I move round the various tertiary institutions in the constituency and I know there are two types of triangular students. There are the triangular students who go from home to class, to library and back home and who many think do not have a life, but end up having first class.
"Also, there are triangular students who go from home to class to beer parlour and clubs. These set also get their results. While the serious students get better jobs, the latter become liabilities. Everything we do have a price. It is now left for us to decide what we want to do," he said while advising the parliamentary heads to be serious with their lives and also carry messages of change in attitude to their various institutions.
Oshun, who said he was disillusioned with the situation, did not exonerate past governments in the rising unemployment in the country. He however expressed hopes that with the current administration, Nigeria would bounce back.
"When you go out and see that young man driving the best car, don't ask any question. Do you want to know what he has gone through or how he made his money?
"The sky is the limit for this forum of yours, but that is when you decide that the sky would be your limit. Being serious does not mean you should not catch fun. But be very responsible," he advised the students urging them to be determined and speak the truth to themselves always as a way to stay off vices.
Chairman of the forum, Ibrahim Oladimeji, said they decided to visit Oshun and present the award following all his contributions especially to students of the tertiary institutions within his constituency.
They also commended Oshun for his contributions on the floor of the House saying his recent motion on gridlocks in the state touched the heart of the traffic problems facing Lagos currently.

Load more