Kazeem Ugbodaga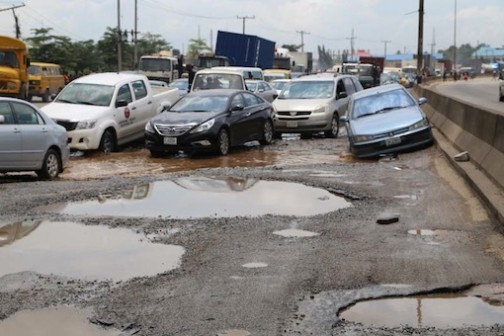 Lagos State Commissioner for Works and Infrastructure, Engr. Ganiyu Abiodun Johnson has declared zero tolerance for potholes across Lagos State and inaugurated a 40-gang taskforce to patch bad roads.
The Commissioner, who disclosed this at a meeting with the management staff of the Ministry and agencies on Wednesday, announced the constitution of 40 gangs to maintain and patch roads with a mandate to drastically improve commuters' experience across the state.
Johnson noted that all the engineers in the Ministry would participate in the exercise which targets all parts of the state.
According to him, apart from patching potholes, the gangs would also work on rehabilitation of collapsed drains and desilting of drainage channels where necessary, adding that the state of the road presented a challenge that the Ambode administration is committed to confronting.
He stated further that the exercise would commence soon and would end only when the roads were stabilised, noting that the effect of weather played a significant role in the condition of roads in the state.
The Commissioner observed that consistent management and better attitude towards them by citizens would see the roads improve significantly.
He said the redeployment of the engineers would also provide them with hands-on-experience and allow them the opportunity of honing their skills.
Johnson added that the exercise would not impinge on the programme of the Public Works Corporation, PWC, but rather assist in the realization of their goals and objectives.

Load more