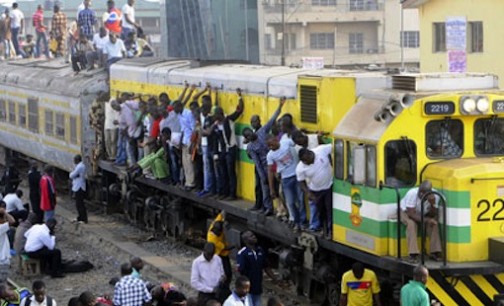 Commuters on the Ogun/Lagos mass transit train of the Nigerian Railway Corporation (NRC) on Tuesday renewed their appeal to the corporation's management to provide security at its Ijoko Station in Ogun.
The renewed appeal followed Tuesday's early morning sporadic shootings by some hoodlums in the area which the passengers and others users of the station described as dangerous.
An eyewitness, Alhaji Muri Olokun, told NAN that it was almost a daily occurrence in the area for hoodlums to scare away people every early morning.
Olokun said the shooting on Tuesday was, however, heavier than the previous ones, adding that it left many of the passengers, NRC workers and sellers to scamper for safety.
"They are usually about five in number and usually start their shooting at about 5:00 a.m.
"I think the hoodlums after arriving from their nocturnal operation always shoot to scare people and get away with their loot," the passenger said.
Olokun added that the hoodlums usually emerged from an uncompleted building in the area with arms.
A NRC official at the station, who pleaded anonymity, told NAN that it was true that the hoodlums usually shoot every morning but that they never came near the office.
"However, their shooting this morning was louder than before and which forced us to lock our offices, while many passengers on queue for ticket ran away.
"We have a police post around but not yet manned by any officer. Before, we thought we are not threatened but today's shooting calls for something to be done," the official said.
NAN reports that early this month, residents of the area arranged some security men around the station to check the incessant operation of the hoodlums.
The security men usually forced passengers coming on motorcycles to join the train to drop some metres away and trek to the station.
"But the residents had withdrawn the security men and the hoodlums are back," a woman living in the area told NAN anonymously.
The woman said the hoodlums not only rob the residents but train passengers who usually come to the station early in the morning to join the train to Lagos.

Load more