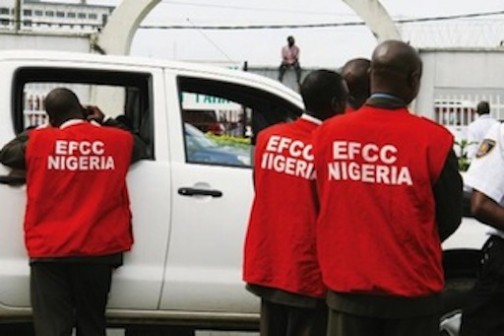 The Economic and Financial Crimes Commission, EFCC, on Thursday, October 22, 2015 arraigned one Folusho Stephen before Justice C.N Oji of the High Court of the Federal Capital Territory sitting in Apo, Abuja on one count charge bordering on impersonation and fraud, contrary to Section 320 (a) of the Penal Code.
Stephen allegedly posed as a staff of the EFCC, and attempted to defraud one Henry O. Ojogo, a former accountant general, Cross River State, to the tune of N600,000.00 (six hundred thousand naira) to enable him give the victim a soft landing in a case he purportedly had with the Commission.
The accused, while parading as a staff of the Commission, asked the victim to pay the sum of N400,000.00 (four hundred thousand naira) within an hour and the balance of N200,000 (two hundred thousand naira) at a later date into a particular account in one of the new generation banks to enable him destroy a purported case file.
Ojogo, confident that, he had no skeleton in his cupboard, suspected a foul play and consequently reported the case to the Commission who swung into action and advised the victim to play along before the law caught up with him.
The charge reads: "That you, FOLUSHO STEPHEN on or about the 23rd day of April, 2015 at Abuja within the jurisdiction of this honourable court fraudulently attempted to induce one Henry O. Ojogo to deliver the sum of N400,000 (four hundred thousand naira) to you by deceiving him that you were a staff of the Economic and Financial Crimes Commission (EFCC) and that you are in possession of the petition written against him to the Commission for abuse of office and that you will assist him to destroy the case file and thereby committed an offence contrary to section 320 (a) of the PENAL CODE LAW and punishable under section 322 of the same law."
The accused admitted committing the crime when the charge was read to him.
Upon the accused plea of guilty, counsel to EFCC, Victor Ukagwu urged the court to convict and sentence him in accordance with the provisions of Section 274 of the Administration of Criminal Justice Act 2015.
Justice Oji adjourned the case.

Load more