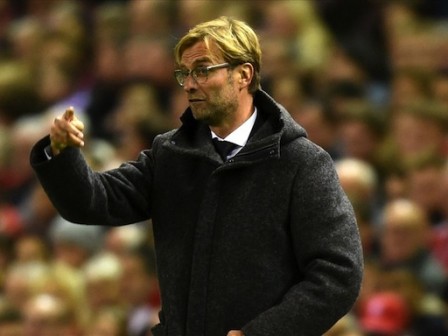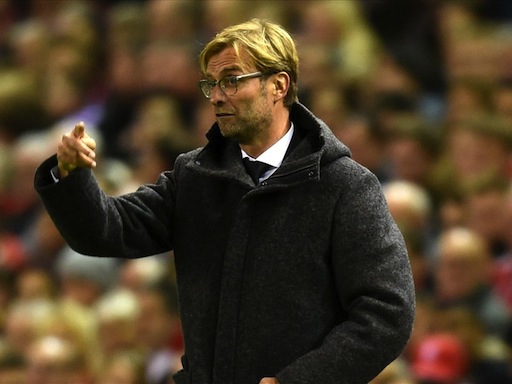 Liverpool manager Jurgen Klopp said he was not on a mission to "change football" after a 1-1 Europa League draw with 10-man Rubin Kazan in his first home game.
Klopp's appointment as the successor to Brendan Rodgers has generated huge optimism among Liverpool's fans, who hope he will transform their club in the manner he did with his former side Borussia Dortmund.
But after a 0-0 draw at Tottenham Hotspur in his first game, his new side failed to break down Rubin at Anfield on Thursday and while he drew encouragement from his players' efforts in pursuit of victory, he sought to downplay the hype that has surrounded his arrival.
Asked by a journalist if he felt like he was "on a special mission" to save English football's soul, the charismatic German replied with a smile: "The ambassador of romantic football? No, I don't think about that.
"Because I don't think at this moment I should come here and change the world of football. I'm not strong enough, not smart enough.
"I'm here as a manager of a football club, one of the best in the world. Now we have to develop our game so our supporters can enjoy our game a little bit more in the future.
"But I think tonight (Thursday) they had moments they could enjoy. They had moments where the players brought their whole hearts on the pitch.
"That's what everybody wants. It was not boring. I don't think anyone wanted to go early.
"We tried our all. And at the end we didn't win. That's the thing. Maybe it wasn't the most world-changing game you ever saw."
Liverpool fell behind to a beautifully taken goal by Marko Devic in the 15th minute, but equalised through Emre Can moments after visiting captain Oleg Kuzmin had been sent off for a second bookable offence.
– '98 percent OK' –
However, despite playing with a man extra for 54 minutes, they failed to score a winning goal, with substitute Christian Benteke coming closest with a low shot that came back off the post.
It was Liverpool's third consecutive 1-1 draw in Group B, leaving them four points below leaders FC Sion, and meant they have won only once inside 90 minutes in their last 11 matches.
"Sometimes it's a big advantage against 10 men, but most of the time it's a pretty thankless job," Klopp told his post-match press conference.
"We had our moments. We hit the post with Christian, we had some other moments, good chances. At the end, no goal. So I would say 98 percent OK — not perfect, but OK — and two percent, the decisive bit, we missed."
On the reception he was granted by Liverpool's fans, Klopp said: "It was one of the best moments for me and it is important for all of us that people don't think it's better I stay outside the stadium.
"When you come for the first time to a new house, you (normally) have a present. I'm not quite satisfied with my present tonight, but it was only the first time and I will come again. We'll see next time. Maybe it's better."
Belgian striker Benteke came through the last 27 minutes unscathed after five games out with a hamstring injury, while Brazilian forward Roberto Firmino made his return following a four-match lay-off with a back problem.
With Daniel Sturridge rested as a precaution after taking a knock to the knee in training, it means Klopp will have a much deeper pool of forwards to call upon for Sunday's visit of Southampton.
Rubin coach Valery Chaly took heart from the way his side had responded to the 36th-minute dismissal of Kuzmin, who was shown a second yellow card for impeding Can.
Asked about spoiling Klopp's big night, he replied: "We're not relatives here to give him some presents. This is football. Both teams gave a decent performance and we're happy with the result."

Load more