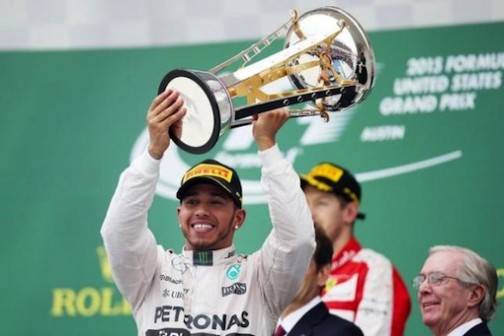 Britain's Lewis Hamilton won a third Formula One world title on Sunday when he swept to victory in the United States Grand Prix.
The title was assured when closest rival Sebastian Vettel could only finish third in his Ferrari behind Hamilton's Mercedes teammate Nico Rosberg.
"This is the greatest moment of my life," said Hamilton over the car radio.
"Thank you so much for everything you guys do. To my family I love you all."
Meanwhile, Nico Rosberg accused newly-crowned world champion Lewis Hamilton of being "extremely aggressive" and "going one step too far" at the start of Sunday's United States Grand Prix.
The disappointed German finished second behind his Mercedes team-mate after starting from pole position and blamed himself for losing the race with an unforced error late in the race.
But, he added, Hamilton's aggression at Turn One was "too much and one step too far" and said it was not acceptable.
"He was extremely aggressive at the start. We hit each other. Or should I say Lewis came into me, which is not good."

Load more