Jethro Ibileke/Benin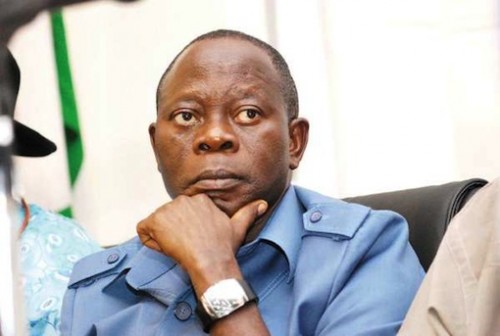 Edo state government has concluded plans to carry out reforms on the recruitment, deployment, promotion and posting of teachers in the state to ensure fairness in the system and to promote optimum performance of the teachers.
The State Governor, Adams Oshiomhole, announced this during a meeting with the chairman and members of the State Post Primary Education Board in his office in Benin on Wednesday.
"The key issue in appointment is competent and in recruiting these numbers, we would start from the top, from those who score the highest mark. The idea here is to give priority to the employment of the best in our schools. Our teachers must be the best. In those days, when you are very brilliant, you go into academics," Oshiomhole said.
"Just that things have changed now, the brilliant ones go into banking, oil industry, they want to go to customs, immigration and all of that but we need the best brains to impart knowledge and that is why we are ready to pay special incentives to those who are involved in Science Subjects. But to do that, I must be convinced that these people would make a difference in terms of the quality of knowledge they impart and we can measure it through performance of our kids in various examinations and periodically, we have other ways to do assessments.
"We can even work out bonuses for schools that have done well, for pupils that have done well, because, like they say, if the child has not learnt, it might well be because the teacher has not taught. One is a consequence of the other and I need us to tie rewards to efforts, because if we can tie reward to efforts and people see that effort pays, I think they will be greatly motivated and I am sure that our children in both primary, junior secondary schools and senior secondary school will do well.
"So we have to carry out fundamental reforms in the way we recruit, deploy, promote and transfer teachers and there must be an order, there must be fairness, there must be balance. No favour, no lobbying, no political consideration," he said.
The Governor urged the Board to bridge the manpower gap between the Junior Secondary Schools and Senior Secondary Schools in the state so as to effectively engage the teachers.
"We have merged the Education Ministry to one now so this issue of Basic, Junior Secondary School, Senior Secondary School have to be reviewed. So you should find a way to bridge all these dichotomy of Junior Secondary Schools and Secondary schools so we can use our man power more optimally.
Oshiomhole used the opportunity to warn against the indiscriminate transfer and extortion of teachers maintaining that there must be fairness in posting and re-posting of teachers so as to expose them to both urban and rural teaching experience.
"I also want to publicly advice you on a couple of things that have happened in the past which you are also aware of. One of them is indiscriminate transfer or Principals or applicants who seek to be Principals are compelled to part with money to be transferred to schools of their choice.
"The result is that you find some people are permanent Teachers in some schools for 10 years while some other persons have done more than 10 years in a typical village if he doesn't have either the bribery capacity or he doesn't have a godfather."
He continued: "The policy of this government is that every Teacher must have both Urban and Rural experience. No Teacher should be permanently left in a rural school and some other Teachers permanently left in an Urban School. Posting is a legitimate thing you do, not only because of exposure to urban area, but even within urban area, people move around."
Governor Oshiomhole however advised the Board to look into the qualification of Teachers in the Primary Schools in the state with a view to upgrading those that have acquired degrees in Education from Primary Schools to Secondary Schools so as to ensure effective and proper use of man power.
"We also have Primary School Teachers who have obtained degrees in Education and are still teaching in primary school. I am not talking of people who acquire their miracle degree from unverified online programmes but people who really have gone back to school, to obtain degrees from recognised universities, not outreach centres. Let them go through a formal interview process using the Agbonlahor Committee.
"If they pass through that process and they are found qualified to teach in a secondary school, they should be moved from teaching in a primary school to teaching in a secondary school so that they don't need to be locked in, in a primary school."

Load more