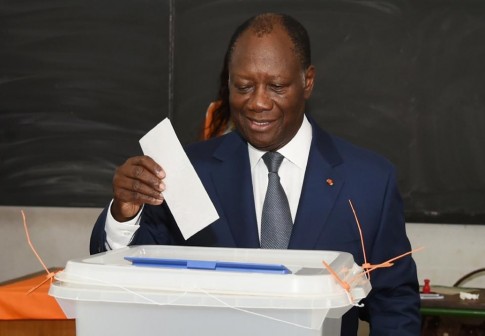 Alassane Ouattara was re-elected as president of Ivory Coast, official results showed on Wednesday, in a vote seen as key to cementing peace in the west African country after years of violence and upheaval.
The 73-year-old won a second term outright by garnering almost 84 percent of ballots in the first round of polls Sunday, when more than half of voters turned out despite calls for a boycott by some opposition candidates.
Ouattara, who had been widely tipped to win, has been credited with reviving the country's war-scarred economy but also accused of creeping authoritarianism.
His main challenger was ex-prime minister Pascal Affi N'Guessan, who garnered just 9.29 percent of ballots and ran on behalf of the Ivorian Popular Front — the party of former leader Laurent Gbagbo who Ouattara unseated in 2010.
Gbagbo refused to concede defeat, sparking a wave of violence which left around 3,000 people dead before he was ousted from power by French-backed pro-Ouattara forces.
Commentators had questioned whether people would head to the polls after the violence four years ago, but Ivory Coast's electoral commission said 54.63 percent of those eligible had voted, and the process won praise from observers as being fair and peaceful.
Ouattara had said high turnout would be key to cementing his mandate for another five-year term from the 23 million people registered to vote across the country.
Before the official results, the CNC opposition coalition, which represents two presidential candidates, had put the turnout figure at 20 percent, calling the vote a "parody".

Load more