Jethro Ibileke/Benin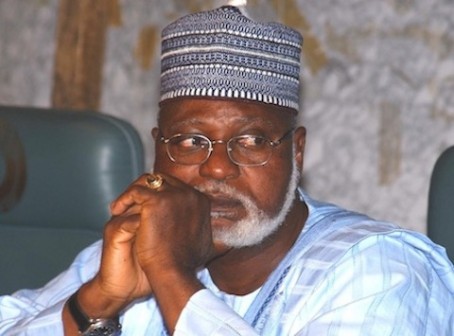 The former Military Administrator of Oyo and Taraba States, AIG Amen Oyakhire (rtd), has commiserated with former Head of State, General Abdulsalami Abubakar, over the death of his junior brother, Brigadier-General Jibril Tanko Abubakar.
Oyakhire in a press statement he issued on Wednesday in Benin City, said the death of Tanko Abubakar "shocked us greatly," adding that "his death is an irreplaceable loss in an inauspicious season."
"Gracious in the sight of the Lord is the death of the faithful. Destiny is immutable for mankind as there is no armour against fate. Indeed, when beggars die, no comets are seen but the Heavens themselves blaze forth the death of Princes.
"He lived, worked and died for Nigeria. He served Allah, Nigeria and mankind faithfully, patriotically and selflessly. He lived graciously and peacefully in the comfort of the Lord. His general contributions and more so in the Military were consistently constructive, incisive, prudent and witty. His language and style were fluid, instructive, comprehensible and convincing. His ideas were lofty, weighty, searching and penetrating. His life symbolised honesty, humility, hard work and modesty. He was a visible testimony of success stories being a resourceful facilitator of the successes of many people. His life was inspirational.
"His warm loving ways and understanding mind facilitated mankind to him continuously. He was a fine officer with a robust faith who savoured the tenets of Islam with malice towards none but with charity for all and a consuming compelling passion for doing good. He possessed what is lacking in most men of today and represented what is generally desired in society. Allah honoured him as Honour seeks only the Worthy."
The former Milad said that the late Brigadier-General Abubakar represented a major part of anything good in this world, and that he never acted beyond reasonable limits of decency.
"He was a pious pedigree, a success compilation, a residual of wisdom, a pragmatic philosopher and a lover of humanity. Every page in his life bears the Signature of Allah. He was mild and convincing in speech, flexible and logical in discussions but firm in principles and very reasonable in conclusions. His quality as a person cannot be exactly expressed in words but suffice to say that he was disciplined, valiant, sublime, informed and well-connected. We will continue to admire, appreciate and love him even in death."
"Brigadier-General Jibril Tanko Abubakar disciplined his life and ordered his priorities right. He was a man of compassionate disposition, a devout Muslim who savoured the tenets of Islam with a consuming compelling passion for doing good. Nigerians are highly impressed by his kindness, patience, patriotism, perseverance and loyalty.
"His success story draws its strength from the credibility his judgments and practices brought into the Military, his flexible leadership style, his intellectual empowerment, forthrightness, sincerity of purpose and sympathy for mankind particularly his subordinates, the poor and the needy.
"He was among the highest and finest examples of professional decency. He was a visible Expression of Allah's glory. His inspirational life speaks clearly and volubly for itself. We are consoled that as mortals death is inevitable and is the last enemy yet to be destroyed. We pray for the repose of Brigadier-General Jibril Tanko Abubakar's kind, gentle, peaceful and lovely soul.
"He was immensely peaceful and well endowed with impeccable social credentials. He was generally loved by people as a great Moralist. His organic effigy is unquestionably fit to adorn the Nation's Hall of Fame as a living Legend of our time. We will continue to mourn him as long as the sad memory lingers on in our minds.
While praying that the almighty Allah accept the kind soul of the late army General into Paradise, Oyakhire prayed Allah to grant his family members the fortitude to bear the irreparable loss.

Load more