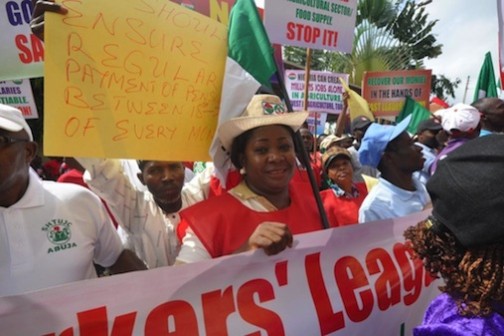 Public service workers in Kogi State have been directed to stay off work on Nov. 2 to protest against non-release of bailout funds by the Central Bank of Nigeria.
The directive is contained in a statement issued by the Nigeria Labour Congress (NLC) and the Trade Union Congress (TUC), in Lokoja on Saturday.
The statement, signed by the State Secretary of the NLC, Mr John Faniyi, and his TUC counterpart, Mr Joseph Kolawole, expressed dissatisfaction with the non-release of the N50.8 billion bailout fund due to the state.
"This directive is to serve as protest against the non-release of the money.''
In the statement, the unions said they were surprised over the silence by the CBN/the Federal Government.
While asking workers to fully comply with the order, the labour unions warned commissioners, permanent secretaries, directors and other categories of senior public offices not to report for work to avoid embarrassment.

Load more