Taiwo Adelu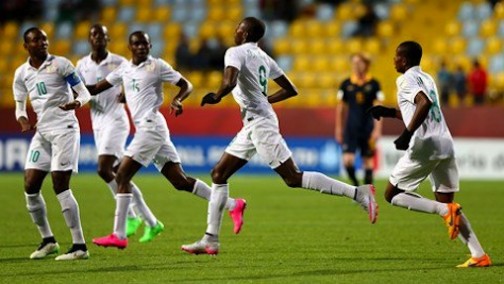 With eight goals in his kitty, Nigeria's Victor Osimhen is on the verge of breaking the goal record of FIFA U – 17 World Cup.
The Ultimate Striker Academy youngster born on 29 December, 1998, is in top form to equal the record created by Florent Sinama Pongolle of France who scored nine goals in the U-17 World Cup staged in Trinidad & Tobago in 2001. Pongolle won both the top scorer, with 9 goals scored, and Player of the Tournament awards in that year's competition which France won and Nigeria came second.
With eight goals and two matches to go for the defending champions and more importantly with the current form of Osimhen, who is the last child of a family of six, scoring two more goals to rewrite history of the tournament is achievable.
The 16-year-old scored again in Sunday's quarter final match between Brazil and Nigeria and he had scored in all five games for Nigeria including a brace against hosts Chile and a hat-trick in the Round of 16 tie against Australia.
His coach, Emmanuel Amuneke could not hide his admiration for Osimhen, who comes from a humble background and had to hawk in the ever busy Lagos traffic along with his siblings in order to augment the purse of the family.
"Right from the time we did the screening for the team, Victor has shown that he is quite a gifted player and I appreciate the progress he has made so far. I hope he would continue to grow and I am happy that he believes in his teammates and the coaches," Amuneke said in an interview on a Lagos-based radio station early on Monday.
The coach, however, called on Nigerians not to relent in supporting him and the boys until the ultimate target is achieved.
"I thank Nigerians for believing in us and we will need their support till we end this competition in victory, " he said.
Meanwhile, two former Nigerian internationals, Nduka Ugbade and Austin Eguavoen have saluted the prowess of the Eaglets for demolishing Brazil in Sunday's quarter final match.
Ugbade said he could not contain his excitement with the scoreline of the match, adding that the match and the Round of 16 tie against Australia were great matches played by the Nigerian lads in Chile.
Eguavoen, one time coach of the Super Eagles, said the victory over Brazil has sent a strong message to other teams in the World Cup that Nigeria are in Chile to defend the trophy for good.
"We'll earn the respect of the world now and I want to congratulate Amuneke for a job well done, " Eguavoen said.

Load more