Taiwo Adelu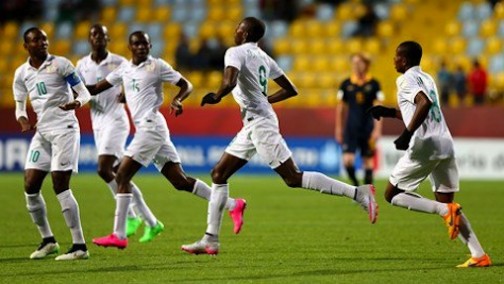 It has been praises galore for Nigeria's Golden Eaglets after they defeated Brazil in the quarter final of the FIFA U – 17 World Cup Chile 2015 on Sunday night.
Defending Champions, Nigeria stunned Brazil with three goals in five first half minutes to secure a 3-0 victory over one of the pre-tournament favourites.
The ruthless way with which they dispatched the Brazilians has given Nigerian football fans sometime to be joyous about.
Victor Osimhen bagged his eighth goal in five games, Kingsley Michael and Udochukwu Anumudu were also on target against Brazil.
In reaction to the performance of the team, some football loving Nigerians who watched the live telecast of the proceedings could not hide their admiration for Coach Emmanuel Amuneke led team as they paid glowing tributes to the Eaglets for doing their nation proud in faraway Chile.
Victor Kelvin tweeted immediately after the game, saying " boys are superb this night 3:0 win over Brazil is amazing! The trophy is ours."
To Bisi Silva, the Eaglets are wonderful against Brazil, he tweeted : " promising and full of potential wonder kids."
In three powerful words, Gainaako described the Nigerian boys as "great performance lads", while Adegboye Kola said in his own tweet that "they're simply the best!!!…God bless Nigeria".
In the euphoria of celebrating the Golden Eaglets for booking the semi finals ticket at the expense of the Brazilians, Treblelona was quick to call the attention of Nigerians to the future of these boys and asked in his tweet where do we expect to see the players in the next few years?
"Where would these boys be in the next 5 years??? we can't continue grooming talents in age grade tourneys and they just waste away. "
He advised the football federation in the country not to let the talent of the boys waste away.
He tweeted again:" @thenff Please help us do something and don't let these young talents waste away like most of their predecessors. "
To Bob Guy, " In ten years some of those Brazilians will be superstars while most of the Eaglets would be retired."

Load more