On Twitter, Kaka has been trending for hours and so is Ozil. Both players became the center of attraction after some football fans made comparison between both players.
The argument really is that one player is better than the other. Many Twitter users have however argued in favour of Kaka.
"Kaka ruled football during his time" many said while others believe Ozil still has the potential to be a great player.
But here are the stats of both players and you can make up your mind on who is better.
Kaka
Born Ricardo Izecson dos Santos Leite in Gama, Brazil, he began his career with São Paulo at the age of eight.
He made his senior side debut on 1 February 2001 and went on to score 23 goals in 59 appearances. He joined AC Milan from São Paulo in 2003.
Between 2003 and 2009 he played 193 times for the Italian club scoring 70 times.
He joined Real Madrid in 2009 and managed only 23 goals in 85 appearances. In 2013, he returned to Milan playing 30 times and scoring seven goals.
He departed Milan to Orlando City in 2014. He played 28 times scoring nine goals.
He is presently on loan at São Paulo where he has played 19 times scoring twice.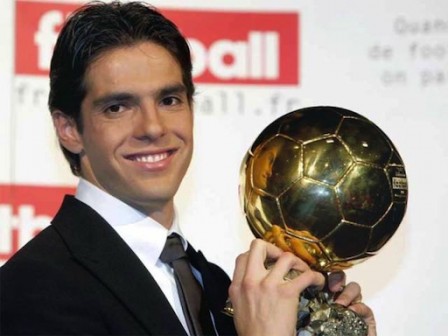 Honours
São Paulo
• Torneio Rio-São Paulo: 2001
Milan
• Serie A: 2003–04
• Supercoppa Italiana: 2004
• UEFA Champions League: 2006–07
• UEFA Super Cup: 2007
• FIFA Club World Cup: 2007
Real Madrid
• La Liga: 2011–12
• Copa del Rey: 2010–11
• Supercopa de España: 2012
Orlando City
• MLS All-Star Game: 2015
Country – Brazil
• FIFA World Cup: 2002
• FIFA Confederations Cup: 2005, 2009
• Superclásico de las Américas: 2014
•
Individual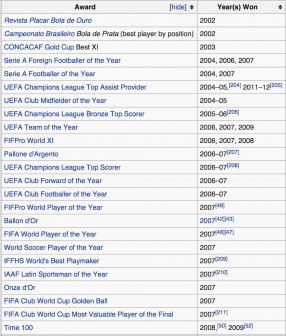 Özil
Born Mesut Özil in Germany, he began his youth career playing for various clubs in Gelsenkirchen and then played five years for Rot-Weiss Essen.
In 2005, Özil moved to the youth department of Schalke 04 and by 2006 he linked up with the senior team. He played 30 times and scored no goal for Schalke before agreeing to join Werder Bremen in January 2008.
At Bremen he played 71 times scoring 13 goals then he left the team for Real Madrid where he played 105 games and scored 19 goals.
He is presently at Arsenal where he has played 58 games scoring 10 goals.
Honours – Club
Werder Bremen
• DFB-Pokal: 2008–09
Real Madrid
• La Liga: 2011–12
• Copa del Rey: 2010–11
• Supercopa de España: 2012
Arsenal
• FA Cup: 2013–14, 2014–15
• FA Community Shield: 2015
International – Germany
• FIFA World Cup: 2014
• FIFA World Cup: Third Place 2010
• UEFA European Under-21 Championship: 2009
Individual
• Germany Player of the Year Award: 2011, 2012, 2013[146]
• Bundesliga top assists: 2009–10
• FIFA World Cup top assists: 2010 (shared)
• FIFA World Cup Golden Ball Nominee: 2010[147]
• FIFA World Cup 2010 Man of the Match: Ghana vs Germany
• UEFA Champions League top assists: 2010–11
• La Liga top assists: 2011–12
• UEFA Euro top assists: 2012 (shared)
• UEFA Euro Team of the Tournament: 2012
• UEFA Team of the Year: 2012, 2013
• UEFA Best Player in Europe Award: 10th place 2012
• FIFA Ballon d'Or: 13th place 2010, 11th place 2011, 14th place 2012, 16th place 2013[148]
• Premierleague.com Team of the Season: 2013–14[149]
• PFA Player of the Month: April 2015
• Arsenal Player of the Month: February 2015, April 2015
Here are some tweets:
Özil isn't better than Kaka yeah? I no argue. But Kaka will definitely take assist lessons from Özil all day everyday. Thanks for your time.

— B L ∆ Q (@Luseg_) November 3, 2015
100 Ozil can never be Matched to One Kaka. Argue at your own risk.

— Lighters44 (@Duron_Mavin) November 3, 2015
KAKA was world's best when deities like Ronaldo, Ronaldinho, Zidane, Seedorf were up and kicking.

— Will Sam (@EMER_LD) November 3, 2015
Ozil – Strenght 50% Pace 60% Passing 90% Shooting 70% Kaka – Strenght 75% Pace 80% Passing 80% Shooting 80% Pls stop comparing them

— Jorndoe ひ (@BossJorndoe) November 3, 2015
Kaka was the best player on the planet , scoring from unimaginable distances and passes accurate. Ozil can't even shoot

— Noris (@GBAGAUN_SEEKER) November 3, 2015
Big fan of Ozil.But this Kaka vs Ozil debate is ridiculous.Kaka was the best player in the planet. Ozil has the potential to get there.

— Rajasimhan (@simhan87) November 3, 2015

Load more