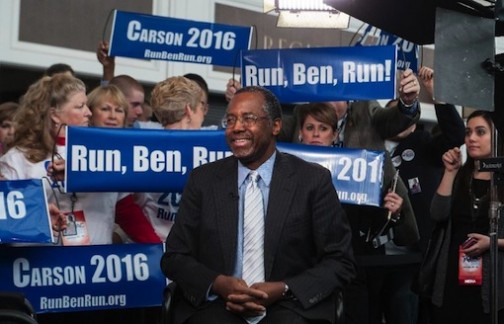 Ben Carson has released a new radio ad targeting young black voters in urban areas — with a hip-hop beat.
Carson, the lone African-American in the 2016 presidential race, unveiled the 60-second spot, titled "Freedom," on Thursday, a day before it was scheduled to begin airing in eight markets — Atlanta, Detroit, Houston, Miami, Birmingham, Ala., Jackson, Miss., Little Rock and Memphis — at a cost of $150,000, according to ABC News.
Carson's campaign enlisted a rapper, Aspiring Mogul, for the ad in the hopes of reaching young African-American voters "in a language that they prefer" and "in a cultural format that they appreciate."
"Reaching them on a level they appreciate and follow, and see if we can attract their consciousness about the election," Doug Watts, Carson campaign spokesman, told ABC. "They need to get involved and express their voice through their vote."
Listen to Carson's rap ad:

"This happens to be a group that we feel pretty strongly is ready and prepared to start working for Ben Carson," Watts added.
The ad mixes audio from a stump speech by the soft-spoken retired neurosurgeon with Mogul's get-out-the-vote rhymes.
"Vote and support Ben Carson, for our next president, it'd be awesome," Mogul sings. "If we want to get America back on track, we gotta vote Ben Carson as a matter of fact."
On Twitter, the reviews of Carson's rap ad weren't exactly kind.
Carson, the current Republican frontrunner, is not the only GOP candidate turning to radio at this stage in the campaign.
Donald Trump spent $300,000 on radio ads that are slated to run in Iowa, New Hampshire and South Carolina in the next several weeks.
The real estate mogul unveiled two of them on MSNBC's Morning Joe Thursday. Sadly, neither of Trump's ads feature rap.