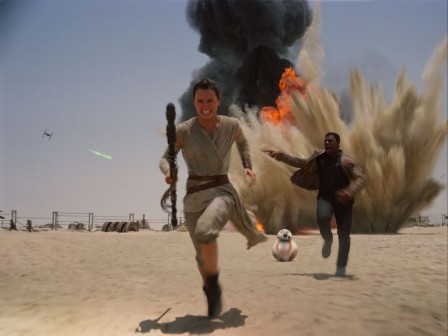 On Thursday, an unfinished cut of Star Wars: The Force Awakens was screened for Daniel Fleetwood, a 32-year-old Houston resident and fervent fan of the franchise who's dying from a rare form of cancer.
Given two months to live by doctors in July, Fleetwood feared that he would succumb to his disease before The Force Awakens' Dec. 18 release date. His wife Ashley began a campaign using the hashtag #ForceForDaniel, and it quickly went viral, with fellow fans and even some Star Wars actors advocating for Fleetwood to see the long-awaited sequel while he was still strong enough to watch.
On Thursday, Ashley wrote on her Facebook page that Daniel's wish had come true, following a phone call the night before with director J.J. Abrams. The studio brought the film to his home.
"Daniels final dream was just granted!!!" she wrote. "Today the wonderful Disney and Lucasfilm made his final dream come true, in the amazing typical Disney way, they really do make dreams come true!"
#forcefordaniel help my man get his last wish, to see a screening of Star Wars before cancer takes him. @bad_robot pic.twitter.com/XCuYD0KlpY

— Ashley Fleetwood (@pandorashley) October 29, 2015
The #ForceForDaniel campaign was boosted by endorsements from one of the franchise's original stars, Mark Hamill, as well as two of its new stars, John Boyega and Daisy Ridley. Boyega retweeted a message of support, while Ridley gave a shout out on her Instagram account, writing: " This one's for you Daniel Fleetwood!!! We will all do what we can to make your wish come true. #forcefordaniel."
Hamill responded joyfully to the news of the screening, tweeting, "I just read this and am elated for Daniel & his family! Thanks to the powers-that-be for making his dream come true."
In her Facebook message, Fleetwood expressed her gratitude to the many fans who threw their support behind her husband. "Lastly I want to thank ALL the amazing people who helped make this happen, thank you beyond words!!!" she wrote. "May the force be with you all."