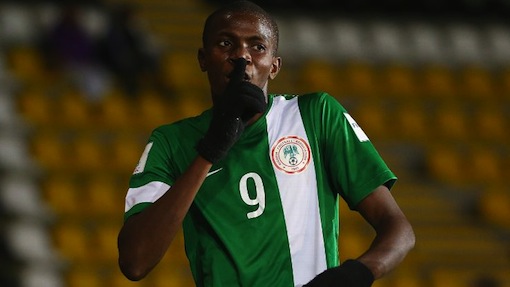 Top scorer of the ongoing FIFA U-17 World Cup Chile 2015, Nigerian Victor Osimhen has been warned not to seek a personal glory in Sunday's final match against Mali.
Osimhen on Thursday equaled the long standing record of nine goals in a single tournament jointly held by Frenchman Florent Sinama Pongolle and Ivorian Souleymane Coulibaly who were top scorers at the global cadet championship at Trinidad & Tobago 2001 and Mexico 2011 respectively.
He is on the verge of being crowned the winner of the highest goal scorer award in the final ceremony of the Chile 2015 on Sunday.
Anyansi-Agwu not only warning Osimhen, but all the players also called out to the team to put collective glory ahead of pursuit of personal diadems. "It is great that Victor Osimhen has equaled the all-time goals record.
He has proved himself as a predator and a worthy marksman. Though the temptation will be for him to seek to break the record on Sunday, he should rather play with the team and for the team's success and he will find out that the record he seeks (which will also be to our nation's pride) will come naturally.
Chief Anyansi-Agwu also has made a clarion call to the Golden Eaglets to set a new world record for wins in the World Cup when they play Mali on Sunday.
With four wins (1985, 1993, 2007 and 2013), Nigeria has the record of triumphs in the global cadet championship. Victory over Mali in a sumptuous all-African final in Chile's tourist destination, Vina del Mar, will take Nigeria's wins to five, followed by Brazil with three.
"At the beginning of the competition, I told the Eaglets to take it one match at a time, which they so brilliantly did. They waited to know the opposition's
strength in the first 10 minutes and then they go all out and punch them hard.
"Now, this is the Championship match, against Mali. We must go all out. Yes, we have the record of wins in the competition, but we must extend it. The Eaglets and their Head Coach, Emmanuel Amuneke, has shown that they deserve to be world champions," Anyasi-Agwu told the website of the NFF.