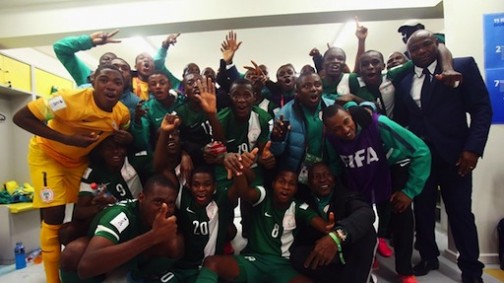 Africa's biggest supporter of football, Globacom has advised the Golden Eaglets to go for glory as they face fellow African country, Mali in the final of the on-going FIFA U-17 World Cup in Chile on Sunday.
Nigeria defeated Mexico 4-2, while Mali outclassed Belgium 3-1 in the semi-finals to set up an all-African final for the first time since the competition started in China in 1985.
The telecommunication company commended the Eaglets for making Nigeria and Africa proud, while urging them to keep their composure and concentration as they prepare for the final encounter.
"With the superlative form displayed by the team so far, we are confident that the Eaglets will go all the way to lift the trophy," Glo said in a statement on Saturday.
"We are most delighted that the Eaglets are now within 90 minutes of winning the FIFAU-17 World Cup for a record fifth time.
"We urge the Eaglets' coaches to admonish the players not to underrate the Malians who have shown much determination and resilience so far in the tournament," the statement added.
The telecoms firm also commended the Nigeria Football Federation, NFF, for the unwavering support it has rendered the cadet national team since the commencement of the global event.
Globacom is the major partner of the Nigeria Football Federation and official telecommunications sponsor of the national teams.