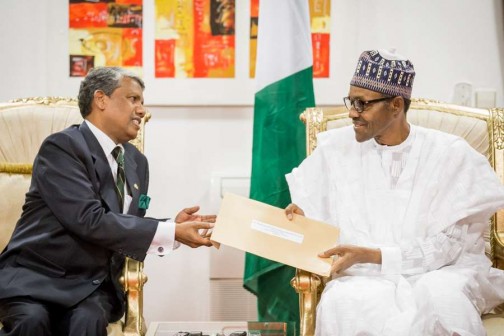 The Indian High Commission in Abuja says 1,103 Nigerians have been trained under the India Technical and Economic Cooperation Programme (ITEC) since 2006.
The Indian High Commissioner to Nigeria, Amb. Ajjampur Ghanashyam, disclosed this in an interview with the News Agency of Nigeria (NAN) on Monday.
Ghanashyam said that at least 16,000 people from 155 countries had been trained under the programme since its inception in 1964.
• Cue in audio
"It was set basically to help the governments, the civil servants at the junior and middle levels, so that when they come back for training in India, they will be better equipped to do their jobs.
"And we take up training in any subject and we have almost one hundred different institutes across the whole country (India) and we train about 15,000 to 16,000 people every year from
155 countries today.
"We started in 1964 in a very small way but today it has become big.
"We have been concentrating only on developing countries and we have not been able to expand more than what we have now because the classes are small and many countries want more seats.
"The problem is that if we have more than 25 students in a class, the quality of training for each student decreases."
The envoy said that the Indian government planned to put up more classrooms to expand the programme.
He called on African countries to take advantage of India's electronic satellite-based education system to enable more citizens to participate in the ITEC programme.
"We are asking governments in Africa to use our electronic satellite based education system.
"You can have your classrooms here while the teachers in India will teach from India via our satellite and you do not have to pay for it."
Ghanashyam also explained that at least 90 per cent of participants selected were drawn from government organisations.
"One of the major criteria for choosing candidates is that they must be from government organisations, with the exemption of the media organisations.
"We want to make sure that the training is used by those who need them more."
He, however, said that more Nigerians benefited from the relationship both countries shared.
The envoy noted 5,914 students were currently studying in different schools in India, while 39,840 Nigerians graduated from various schools across that country.
Ghanashyam explained that the current volume of trade between both countries stands at $17 billion as at 2015, saying that the trade between both countries remains constant.
He applauded the Federal Government's policy on the elimination of middlemen in the sale and purchase of crude oil.
" Nigeria is our largest supplier of oil from Africa; even though the oil prices have become half, our trade is constant.
"That means oil off take has gone up and that is the reason we keep saying we want to buy oil from Nigeria on a government-to-government and long term basis.
"This is what we want because it makes our lives easier because we get to pay whatever the market rate is and the regularity of supply gives us security."
The envoy also said that the both governments had begun to enhance relations in the non-oil sectors.
He recalled the areas of focus both governments agreed to partner in at the recently concluded India-Africa Summit.
"This is the first time we hosted the entire continent of Africa and all of them were represented at that summit.
"All governments consistently mentioned four areas to work with them which are health, education, ICT and agriculture.
"We are working in various areas in Nigeria and we are going to coordinate more and work on these areas."