Achum Tobechukwu Valentine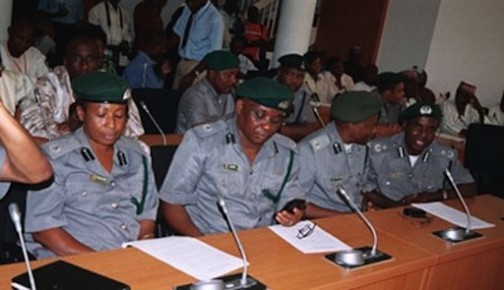 The Nigeria Customs Service has as its core functions the collection of excise duties and accounting for same; and prevention and suppression of smuggling. Some other of its functions include: trade facilitation, collection of levies and charges, implementation of government fiscal measures, amongst others. They also support the combating of illegal trade in arms and ammunition, illegal trade in endangered species, illegal trade in cultural artefacts, import of fake and substandard goods, importation of pornographic materials, traffic of illicit drugs and money laundering. This places the institution as a steward of Nigeria's trade and border management, and as such, they are given the task of policing the nation's borders against threats.
However, threats come in various forms. But currently of serious concern is the threat of terrorist activities which have destroyed many lives and properties especially in the North-east region for more than half a decade without any sign of abating. Both women and children have now been indoctrinated into this deadly activity and have been seen to be as deadly as their male counterparts. This have raised some pertinent questions such as: why do they kill? How do they procure their weapons? Who are their sponsors? There is a litany of other related questions begging for answers.
I will not bother attempting to provide answers to any of these questions because I do not have an answer myself. But I could guess that their weapons definitely cross our borders to get into the country. Or how else do they acquire their weapons if it's not being transported through our borders from neighbouring countries? That is why there must be proper managing, securing and controlling of our borders which have been described as too porous and vulnerable. And this is where the Nigeria Customs Service alongside other border patrolling agencies need to up their ante by stretching their scope to come up with an intelligence-based border control framework to prevent weapons and materials for terrorists from gaining entry through Nigerian borders.
In the United States of America, the U.S customs agency, while charged with the mandate of fostering economic security through lawful international trade, also declared in its mission statement that ''we are the guardians of our nation's borders''; ''we safeguard the American homeland at and beyond our borders''; ''we protect the American public against terrorism and the instruments of terror,'' among others. This declaration is no mere catch phrase as they currently operate an automated interagency border inspection system that helps detect suspected terrorists as they attempt to pass through any of the 350 U.S. border entry points. This, according to their State Department statistics has allowed the U.S. customs to intercept a total of 196 suspected terrorists from 56 countries at 44 different U.S. border points. They also have as part of their strategic goals a plan to constantly improve the identification and targeting of potential terrorist weapons across its borders.
Nigeria who modelled its administrative structure after that of the U.S. also faces similar security threats with them. However, the difference between the two is that while the world super power has been able to appreciably nip its own in the bud through a well-coordinated effort at synchronising activities of relevant security agencies to boost its intelligence and combat power in order to bring terrorists activities to its knees, Nigeria, Africa's super power has not been able to conquer its terrorism challenges. Too much pressure is being placed on the Nigerian armed forces which includes the Nigerian Army, Air Force and Navy without recognizing the roles other agencies has to play in this fight.
The Nigerian Customs and other border control agencies must also be prepared to address terrorism threats. There is a need to maximize border security especially along borders in the North-east region through an appropriate balance of personnel, equipment, technology, communications capabilities and tactical infrastructure. There should also be proper identification of 'unidentified' entry points into the country because there are alleged stories of illegal and unidentified entry points in the country which is being exploited by smugglers to bring in contrabands into the country without paying the necessary duty for their goods, thereby endangering the people and bringing about a loss in revenue.
These so-called unidentified entry points could as well be used by sinisterly minded people to bring in materials that could be used for terrorist activities. When the total number of entry points have been ascertained at least in the Northeast for now, border control agencies must then be equipped with radiation detection equipment such as personal radiation detectors, radiation isotope identification devices, radiation portal monitors, or other screening technologies which support layered inspection process. Only then could we have said to be on track in terms of globally recommended standard in combating terrorism.
—Achum writes from Calabar via [email protected]