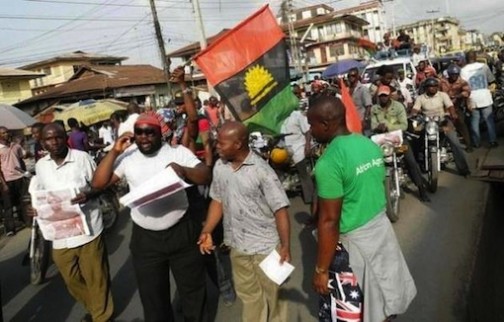 The agitation for the actualization of the Sovereign State of Biafra has taken a new dimension since the new leader of the struggle, Mr. Nnamdi Kanu declared readiness to fight all the way. Kanu subsequently launched a radio station, Radio Biafra where he served as the Managing-Editor till he was reportedly arrested by Nigeria secret police, the Department of State Services (DSS).
While I recognize the constitutional rights of any Nigerian or group of Nigerians to freedom of expression, association or agitation for their rights, I am also aware of the fact that most of the Biafran sympathizers are merely ignorant of the true motives of those behind the renewed agitation for the state of Biafra.
Those who send our young ones to the streets in the name of Biafra are mostly corrupt and criminally minded elites chilling in their air-conditioned mansions and riding in super cars, with their children and family members studying or living abroad, and yet, they take advantage of our sad economic situation and poverty of which their greed and corrupt practices contributed immensely to, to send our young ones into the streets to cause troubles and disrupt economic activities.
The poor young Nigerians who are mostly jobless or traders struggling to feed twice a day are the ones who get killed by stray bullets when they clash with security forces or in other situations whenever their protests go violent. Their sponsors and leaders who mostly support them secretly go about their businesses freely and still guarded by 'Nigerian' security operatives. If peradventure anything goes wrong and their agitation turns to any form of war, their sponsors all have int'l passports with multiple visa, plus adequate bank account balances enough to fly them out Nigeria with their families, leaving same innocent young Nigerians to suffer it alone in the long run.
Again, I call on every young Nigerian who didn't witness the civil war to kindly find time to sit their parents down and ask them what their experiences were during the war or Google out 'effect of the Nigerian civil war' to learn more about the cost of choosing war over dialogue.
So wise up fellow young Nigerians, as our complicated challenges are not about dividing the country and actualizing Biafra. Let's remember what we went through during the last civil war. Let's remember we lost over a million brothers and sisters. Among those who died were great young men and women – pilots, engineers, teachers, politicians, economists, religious and traditional leaders, who could have taken us further than where we are today, as a country!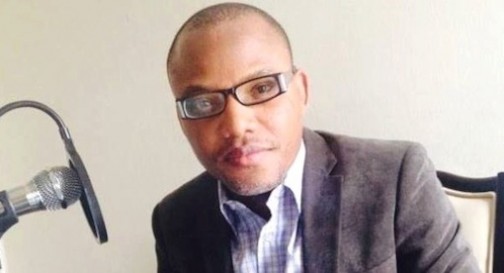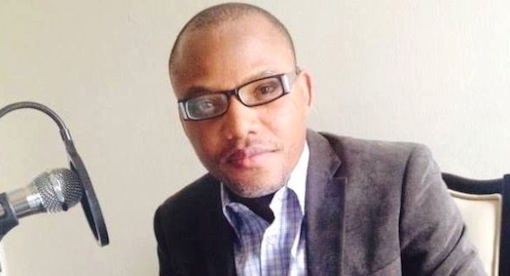 Ask yourself: How have we loved and managed ourselves and resources in the states we want to separate out of Nigeria into Biafra? What have we done or achieved with all our internal resources, human and material, and allocations received from the federal government over the decades?
Nigeria isn't bigger than America or China. All we need to do is look inward, take time to understand our diversity, how to take advantage of it and live peacefully as one nation. There's also urgent need to review our leadership, as a people, our institutions and participate actively in our governments, as youth, rather than calling for separation.
There's also this obviously exciting need to simply key into the new government of President Buhari and VP Osinbajo, to support and encourage them on their various promising programmes, which are mostly targeted at making life better for the common Nigerian. For once, Nigeria has produced a president and vice president who are both not multi millionaires and billions with Godfathers dictating for them.
For the first time, we have a government that's truly the desire of majority of Nigerians, and all we now need to do is support same people we found worthy and voted in, and patiently wait to see if they deliver or not. But as a person, I am strongly convinced that Nigeria is moving to greater heights soonest, irrespective of the temporary challenges facing us.
Let's not also fall for a few greedy politicians and businessmen who are only after what they will gain. Most of those behind the call for Biafra are greedy politicians, businessmen and supporters of corruption who can no longer survive adequately in today's Nigeria, especially as our institutions are being strengthened to become serious and transparent.
Let's not also give people the chance of thinking that those calling for division of Nigeria are same aggrieved people from a certain part of the country who didn't vote for the new government and went further to criticize the President for allegedly sidelining them by his appointments which they termed as 'lopsided' and lacking federal character.
Admittedly, things aren't going well with Nigeria and Nigerians today, but it's a phase and trying time we'll overcome soonest, especially as President Buhari inaugurates his ministers this Wednesday, to enable them commence work officially immediately. Let's not practice the story of the tortoise… hurrying to get out of the toilet pit after staying for 6 days and due to be released and crown a king on the 7th day. Imagine how hard things have been even without war! Imagine how harder it will be when we start a war again and no longer moving freely to work and fend for our loved ones.
Beyond its result-yielding fight against corruption and impunity, making urgent and sustainable plans to commence the payment of N5,000 monthly stipends to 25 million vulnerable Nigerians, the Buhari administration is poised to lift millions of Nigerians out of extreme poverty by providing social protection and safety worth 2.5 trillion Naira from the Special Intervention Fund.
While I will continue to stand against the call for Biafran state and encourage our youth not to be used by certain selfish individuals and rather embrace dialogue, I urge the federal and state governments, especially the states where the agitations are emanating from, to dialogue with the leaders of the Biafran agitators with a few to finding a lasting solution before things get out of hand, as this was how the Boko Haram group started. They weren't taking seriously and today, even with international help, we've not been able to defeat them easily.
I also challenge our respected religious and traditional leaders, especially those in the affected states, to use their influence and call their young ones to order, as part of their obligation to the nation.
Most urgently, President Muhammadu Buhari, as the Chief Executive Officer of Nigeria must rise up to the occasion, call on the governors of affected state, mandate them to work and comply with relevant federal authorities in their respective states, to restore peace and order, so Nigerians in those states can freely go about their normal lives.
At a time when there are violent conflicts and global economic challenges across the war, Nigeria cannot afford a fresh civil war. We must collectively do everything to remain as one strong nation, fight our common and biggest enemy – the Boko Haram insurgents and support the new and promising government to lead us to the promised land.
*Philip Obin, business consultant and new media strategist writes from Abuja