Femi Adi/Kaduna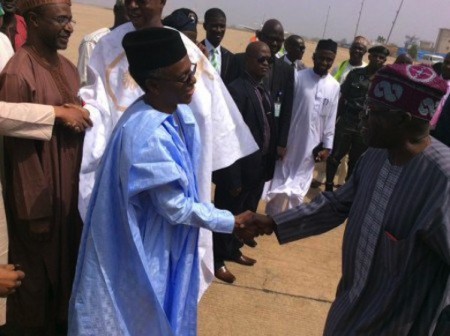 Former Lagos State Governor, Asiwaju Bola Ahmed Tinubu on Wednesday in Kaduna said former Federal Capital Territory Minister and Kaduna Governor, Malam Nasir Ahmad El-Rufai is no longer an "Accidental public servant" as published in his book but a thorough breed leader with a clear vision.
Tinubu who made this known while flagging-off the first phase of 200 brand new Peugeot and KIA vehicles for the new Kaduna Cabs Scheme initiated by the Malam Nasir El-Rufai led administration said good leaders are known when they make promises and fulfil them.
According to Tinubu, voting El-Rufai as Governor of Kaduna is not a mistake, but a blessing as he has demonstrated that he is performer, trailblazer and committed governor.
While expressing joy to be part of the taxi empowerment scheme for the people by the government, he emphasised that the Kaduna Cab Scheme is a long overdue initiative.
He added that now that a people oriented government is in charge of Kaduna, APC leaders are beginning to see not just bold ideas, but equally bold moves.
"I have been made to understand that the Kaduna Green Cabs Programme is an initiative to revive taxi services in the state, using modern cars and well-trained owner-drivers. It will also create a new generation of owner-drivers." He stated.
While noting that the taxi scheme is not only an economic empowerment program aimed at not just creating wealth, but also providing jobs and affordable loans to the people of Kaduna State.
He further said that the advantages of the initiative range from the economic to the sociological and security. Adding, " It will help to begin to sanitize the taxi business system since a database is expected to be established and a monitoring technique."
He therefore urged Kaduna citizens to support El-Rufai because he is convinced that he his indeed a capable hand. That a new sheriff is in town.

Load more