Jethro Ibileke/Benin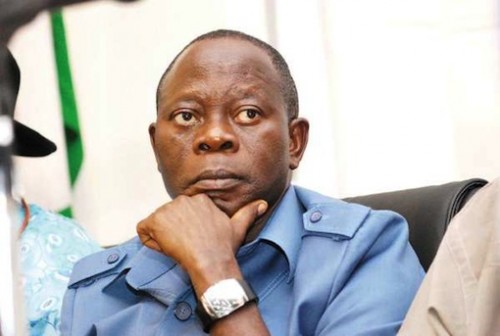 Governor Adams Oshiomhole of Edo State on Wednesday threatened to convey all files containing alleged cases of fraud perpetrated during the administration of Lucky Igbinedion as governor of the state to Abuja next week with a view to commencing prosecution against whoever is indicted in the cases.
He also expressed his readiness to publish the sales of government properties during the under the watch of the former governor, even as he fingered Osagie Ize-Iyamu who was Secretary to the state government under Lucky Igbinedion, as one of the alleged beneficiaries of some of the properties.
The governor gave the threat while addressing mammoth crowd of youths, civil society organizations and students who embarked on a solidarity match against a section of civil society organisations who protested against government policies last Monday.
The youths who had earlier condemned the Monday protest, commended governor Oshiomhole for his developmental strides and the introduction of the land use charge which they said was geared toward uplifting the lives of the poor to the detriment of the rich.
Oshiomhole who said he want to be remembered for eliminating godfatherism in the state, commended the youths for their solidarity, saying "it shows your support and your endorsement of my stewardship here in Osadebey Avenue."
He explained that the problem with the Igbinedions started when he revoked the over two hundred thousand hectares of land the former governor gave to his father in Okada which according to him, belongs to the state government, and the termination of the MOU the former governor signed with his father, which "allows the medical students in Igbinedion university to use our state owned hospital at the expense of the Edo state government while Chief Igbinedion collects N1million from each medical student."
"Every body born of a woman in this state must be subjected to the rule of law. I decree in the name of God my creator and in the interest of Edo people, even the ones yet unborn, I want to be remembered, after my stewardship, not only for roads, for hospitals, for schools, much more importantly.
"I want to be remembered as the man who brought an end to exemptions, I want to be remembered as the man who took from those who have bastardized, raped and privatized the resources of Edo state, use our money to build their private universities and walk around our streets when they are supposed to be in Oko prison," Oshiomhole said.