Funsho Arogundade ([email protected])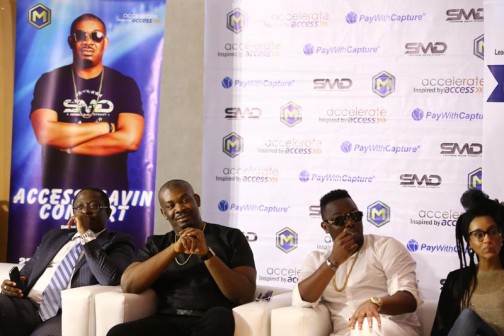 Supreme Mavin Dynasty. They have set the record for the most views by a Nigerian label on YouTube. They have set the record for the most hits released by a label in a single year. Now, the leading Nigerian record label is set for another record on 23 December with their first-ever and a marathon year-end concert holding in Lagos, the country's commercial capital.
Tagged 'Access Mavin Concert' and planned in partnership with Access Bank plc, the one day concert will feature a string of Mavin acts, led by multiple award winning singer/producer Don Jazzy, MAMA winning singer Tiwa Savage and Bestselling pop acts Dr. SID and D'Prince.
Speaking at the media briefing to announce the concert, Don Jazzy stated that the concert is a special 'Thank You' event in recognition of the support from their fans all these years.
"We are very excited to be able to put this together this year after three years of steady progress as individuals and as a label. Despite many odds, we have been able to get to this point and do so many unprecedented things in the Nigerian music industry. I am particularly pleased that Access Bank wants to share in this success story and contribute to it and I am sure that the fans will love what we have in store for them on the night," Don Jazzy said.
He added that the concert is 'a loyalty reward' for the millions of Mavins fans across the world for their support and passion, and the tickets will cost next to nothing.
"This is our way of saying thank you to our many fans around the world for supporting us from our launch three years ago to where we are now. We have achieved so many records and the only reason we have done all this in such a short space of time is because of our amazing fan base. The tickets are super affordable and can be purchased on PayWithCapture," Jazzy added.
Also commenting on behalf of concert partners, Access Bank plc, who is making a big entry into music sponsorship with the title sponsorship of the concert, Victor Etuokwu, Executive Director, Personal Banking, told journalists at the Intercontinental Hotel, Lagos venue of the media briefing that the sponsorship is part of the Access Bank's commitment to providing a meeting platform like the Access Mavin Concert, Accelerate amongst others to engage youths.
"Access Bank will continue to seek opportunities for young Nigerians to celebrate and learn as we challenge them to take tomorrow, we shall be their friend and dependable partner all the way," he said.
Speaking about the concert, an upbeat Tiwa Savage said she can't wait to thrill her fans at the concert and appreciate them for all their goodwill messages during her sojourn to motherhood.
"It's going to be exciting performing on stage with my label colleagues and I just can't wait," Tiwa remarked.
Other headliners will include Mavin super trio Korede Bello, D'iJa and Reekado Banks. The crew will be joined by other superstar musicians for an electrifying concert that will last for at least hours and will be broadcast Live.
The Access Mavin Concert will hold at Eko Atlantic, Victoria Island, Lagos and tickets to the event are available on PayWithCapture for N499.