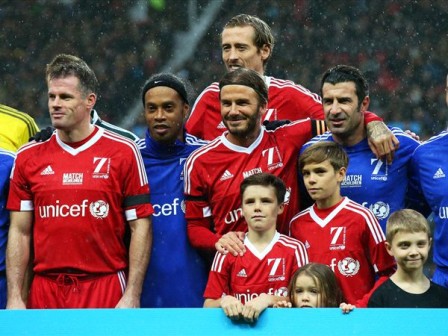 David Beckham rolled back the years as 75,000 fans at Old Trafford braved monsoon conditions to see the former Manchester United and England superstar joined by famous friends to play his seventh match across the world in nine days.
And in a glimpse of the future when he temporarily left the field 15 minutes from the end, another Beckham No7 took his place, 16-year-old son Brooklyn.
The Great Britain vs Rest of the World 'Match for Children' was Beckham's brainchild to mark his 10th anniversary of being an ambassador for international kids' charity UNICEF.
And far from looking fatigued after travelling to every continent in the past nine days to play football, 40-year-old Beckham looked in great condition as he set up Class of '92 pal Paul Scholes for the opening goal with a trademark cross.
It was reminiscent of the glory years under Sir Alex Ferguson, when United won the treble in 1999; a pin-point accurate cross from Beckham, finished off by legendary midfielder Scholes as the manager watched on from the touchline.
From then onwards, it was the Beckham show, delivering a string of quality crosses rarely seen in the current Premier League, watched on admiringly by his manager-for-the-day Sir Alex Ferguson.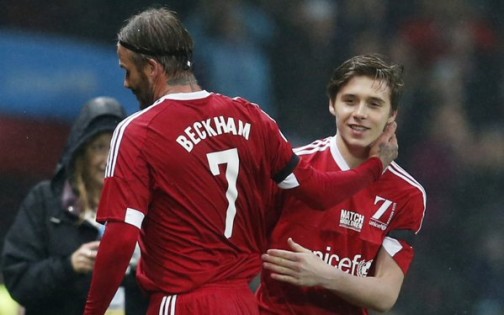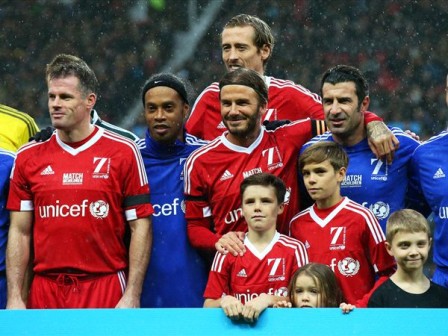 Naturally, the thoughts of Friday night's terrorist atrocity wasn't too far from everyone's mind on an afternoon meant to celebrate the joy of football.
French World Cup winners Zinedine Zidane and Patrick Vieira were late withdrawals from the Rest of the World team and fans were urged to get to the stadium early with security beefed up.
There was a minute's silence with Beckham, Ronaldinho and Rest of the World manager Carlo Ancelotti looking particularly moved. All have worked in Paris during their career for Paris Saint-Germain.
There were stars-a-plenty on and off the field. Former United greats Ryan Giggs, Nicky Butt, Michael Owen and Phil Neville were in the Britain team alongside Beckham and Scholes, and John Terry and Peter Crouch – who are both still playing in the Premier League.
Besides Ronaldinho, the Rest of the World team boasted Cafu, Luis Figo, former United greats Edwin van der Sar and Dwight Yorke, and a couple of French players in Robert Pires and Mikael Silvestre.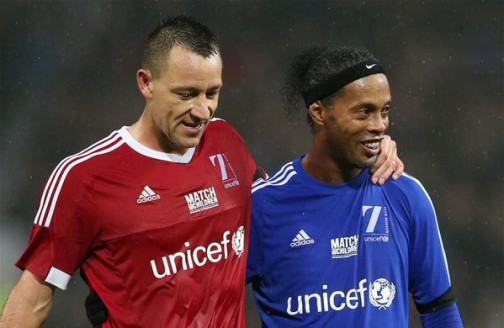 Beckham looked the best player on the pitch despite his criss-crossing the planet to Papua New Guinea, Nepal, Djibouti, Argentina, Antarctica, the USA and lastly Manchester.
His through ball to Crouch should have led to the opening goal but the big striker got his feet in a muddle and Van der Sar saved.
It didn't matter. Two minutes later, Beckham swung his trusty right boot and Scholes found space on the edge of the six-yard box to head in. The crowd were willing Goldenballs to shoot himself from a good position later in the first half but he unselfishly squared into the penalty area.
Although the pace was friendly, there was enough of an edge. Cafu and Ashley Cole exchanged smiles after the Brazilian flattered England's greatest left back. Cole, who doesn't get much game time for Roma these days, was pumped up and barged into Figo, who also needed treatment.
More seriously, Yorke accidentally caught his mate Butt who was carried off on a stretcher, sitting up nursing his leg. It was later reported he had torn his Achilles.
From Andrea Bocelli's rendition of Nessun Dorma before kick off to a half-time song from Rita Ora, the families who had turned out despite the inclement weather were entertained. There were pantomime boos whenever Terry or Liverpool legend Jamie Carragher were on the ball.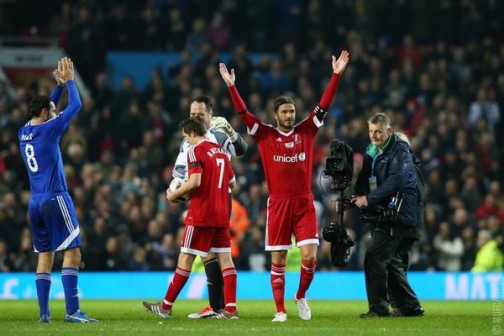 Great Britain made it 2-0 when Owen, just on as a substitute, poached from his favourite distance, three yards.
Yorke did pull a goal back midway through the second half from slightly longer range but Owen was again on hand to make it 3-1 after 86 minutes – this time from only a couple of yards – when Raimond van der Gouw had fumbled a cross by Ashley Cole.
Beckham spoke so movingly before the game about his work for UNICEF, helping to provide children across the world with fresh water, food and education, things people in England take for granted.
For that alone, it was a great occasion less than 24 hours after Paris had seen the darker elements of mankind come to the fore.
He got a well-deserved standing ovation when he made way for Brooklyn, who has trained with Arsenal in the past. He got a good luck kiss from Dad, who then reappeared for the final few minutes as a substitute for Sol Campbell. It was that sort of afternoon.

Load more