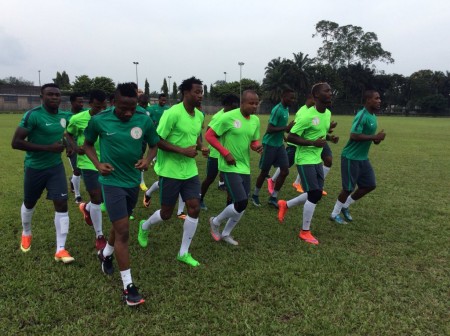 Nigeria's Super Eagles have begun training in earnest for the second leg second round of the 2018 FIFA World Cup qualifying fixture against Swaziland.
The Eagles, who played a barren draw with Swaziland on Friday, returned to the country early Saturday. They flew straight to Port Harcourt, Rivers State where they will play the second leg tie against the Swazi on Tuesday at the Adokiye Amiesiamaka Stadium by 4:00 pm.
The Eagles on Saturday evening resumed training for the return leg with a light walk–out at the Amiesiamaka Stadium.
The Eagles' Twitter account confirmed the training, and tweeted "Shaking off the fatigue from yesterday's game and planning towards Tuesday."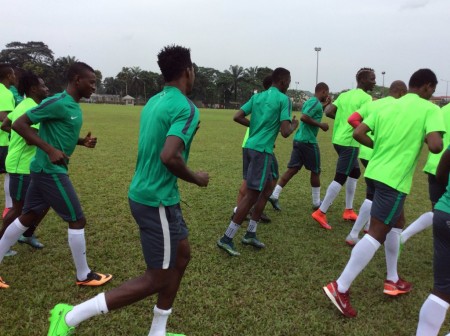 Meanwhile, the delegation of Sihlangu Somnikati of Swaziland will be staying at the Golden Tulip Hotel in Port Harcourt when they arrive the country for the second leg match.
The Nigeria Football Federation, NFF, confirmed from the Chief Executive Officer of the National Football Association of Swaziland, Frederick Mngomezulu, that the Sihlangu delegation would depart from Swaziland on Saturday, and travel via ARIK Air from Johannesburg on Saturday night, to arrive in Lagos on Sunday morning.
The delegation will then fly to Port Harcourt Sunday morning aboard another ARIK Air flight from Lagos.
NFF officials and the Rivers State Government have reserved rooms for the delegation at the Golden Tulip, while the Super Eagles are staying at the Hotel Presidential.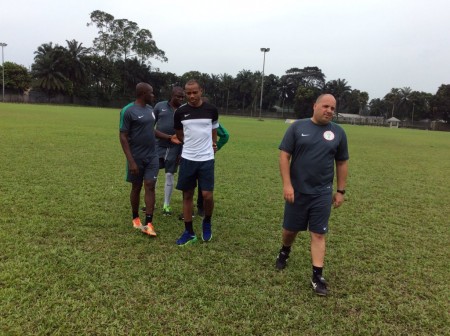 The Sihlangu delegation is made up of 18 players and 10 officials.
Football's world governing body, FIFA, has appointed Namibian officials to take charge of Tuesday's encounter.
Jackson Pavaza will be the referee, with Isaskar Boois, Christof Alfred Vries and Leston Nangombe as assistant 1, assistant 2 and fourth official respectively.
Bester Kalombo from Malawi will be the referee assessor with Ethiopian Luleseged Begashaw as match commissioner.