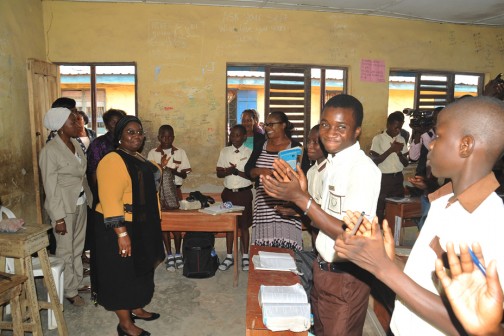 The Deputy Governor of Lagos State, Dr Idiat Adebule, on Monday urged public school Head Teachers and Principals to be diligent and take ownership of their schools to improve learning.
Adebule made the plea during an inspection tour of some primary and secondary schools in the State in the company of the Permanent Secretary, Ministry of Education, Mrs Olabisi Ariyo.
She expressed displeasure over the dilapidated and dirty condition of some of the physical infrastructure and environment of the schools.
The Deputy Governor said in spite of the massive work the state government was doing to refurbish the public schools, their managers were still unable to take proper care of the facilities.
"I am not happy with the state of some the schools and it is because there are no consequences for such negligible act by school head teachers, principals and teachers.
"We can see some school environment so dirty and bushy, the classrooms and toilets are in bad shape, some were rowdy and noisy even when teachers were there.
"These school managers are seeing the schools as government properties and have refused to take ownership of these schools.
"I urge public school managers to imbibe maintenance culture, as this would make the schools comfortable, inhabitable and conducive for learning," she said.
Adebule said that there would also be consequences for Principals and Head Teachers whose schools were dirty, to serve as a deterrent.
She said that government would continue to place high priority on education by ensuring adequate human resource and infrastructure development.
The deputy governor urged public school managers to collaborate with the government.
NAN reports that some of the schools visited were Agidingbi Junior and Senior Grammar schools in Agidingbi, Estate Primary School and Ogba Primary school in Ogba.
Other are All Saints Primary School, Holy Trinity Primary School, Bishop Oluwole Primary School, Sonmori Senior Comprehensive High School and Ifako Ijaiye Senior Comprehensive High school, all in Ifako-Ijaiye, as well as Ahmad Memorial and Muslim Primary School in Agege.
NAN also reports that some of the primary schools were in bad conditions with leaking roofs, abandoned classrooms, dilapidated toilets, shortage of chairs and tables for pupils, bushy environment and classes not properly illuminated.