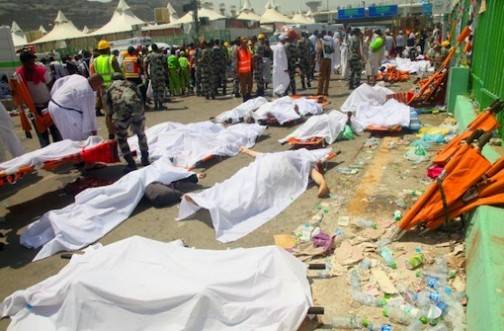 The National Hajj Commission of Nigeria (NAHCON) has blamed the Saudi Arabian Government for the commission's inability to give accurate account of Nigerian casualties in the 2015 Hajj stampede.
Dr Saleh Okenwa, Commissioner Planning, Research Statistic Information and Library Service (PRSILS) of the commission, stated this at a news conference on Monday in Abuja.
Okenwa expressed the determination's of the commission to continue to work with relevant stakeholders to account for the remaining pilgrims that died in the stampede.
He, however, confirmed the death of 274 Nigerian pilgrims; 44 still missing, while two were still receiving treatment in a Saudi hospital.
"The number of Nigerians confirmed dead in the stampede is 274; those injured and on admission in Jeddah are two, while 44 remain officially declared missing.
"This was a year that the Saudi Arabia government did their best to ensure the success of Hajj exercise and safety of pilgrims, but Allah decreed that this will happen," Okenwa said.
He said that the Saudi Arabian Government was yet to respond to Nigeria's request to be part of its committee set up to probe the incident.
"Nigeria requested to be part of the committee investigating the incident, but we are yet to receive response from the Saudi authority.
Earlier, the Chairman of NAHCON, Alhaji Abdullahi Mohammed, said that it was the prerogative of the Saudi Government to decide the composition of the committee investigating the stampede.
He, however, said that Nigeria had yet to receive any compensation pledge by Saudi Arabia for the victims of the Sept. 11 crane crash at the precinct of Ka'aba (the Grand Holy Mosque in Mecca).
On his part, the Head of NAHCON medical team, Dr Ibrahim Kana, said effort was being made to find the 44 missing Nigerians using the DNA samples of their family members.
He added that the sample would be collected and sent to Jeddah, Saudi Arabia, for cross matching of the 44 missing Nigerians.
The News Agency of Nigeria (NAN) recalls that about 300 Nigerian pilgrims died during the stampede in Mina on Sept. 24, Saudi Arabia, during the annual Hajj in Mina, Mecca.

Load more