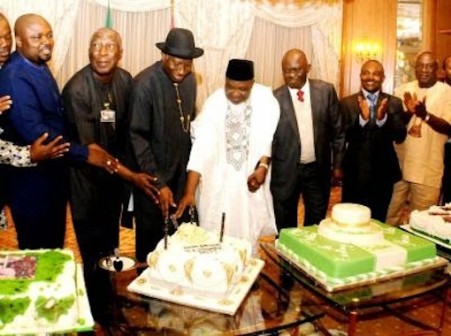 Nigeria's former president, Goodluck Jonathan, turned 58 on Friday and has been getting loads of birthday greetings on social media especially on Facebook and Twitter.
Jonathan who is presently in the United States lost his reelection bid to Muhammadu Buhari after having served first as vice president to late Umaru Yar'Adua and as president for six years.
Here are some messages to the former president on Twitter.
Happy 58th Birthday to President Goodluck Jonathan, who by his actions showed Nigeria is more important than anyone's personal ambition.

— Mr. Aye Dee (@MrAyeDee) November 20, 2015
Today I celebrate a true Nigerian Hero. Happy Birthday President Goodluck Ebelemi Jonathan. Shine on. 👏👏👏👏👏👍👌💓💜💘 pic.twitter.com/nq5nT5oBlB

— Nothing To Say ⚡ (@RadicalYouthMan) November 20, 2015
My attention has been drawn to the fact today is my hero and legend of democracy- Dr. Goodluck Ebele Jonathan's Birthday.

— Ebube Nwa GEJ (@akaebube) November 20, 2015
I celebrate this great man today and always! Happy 58th birthday Dr Goodluck Ebele Jonathan (GCFR) pic.twitter.com/zaE4410uef

— Omadi (@iamtenseven) November 20, 2015
Happy Birthday Mr. Goodluck! Former President, Goodluck Jonathan is a year older today! GEJ turns 58 today. pic.twitter.com/NOujWOHkD4

— Gists Portal (@GistsPortal) November 20, 2015
Happy Birthdae to fomer President @ Good Luck Jonathan https://t.co/C8lH7EfbRq

— uwada bobby stephen (@Diegocosta_bob) November 20, 2015
Happy Birthday His Excellency Dr Goodluck Ebele Azikiwe Jonathan, Ex President of the FRN. May God keep taking you higher sir.

— Mazi Gomez (@adindunnamdi) November 20, 2015
Happy birthday, President Goodluck Ebele Jonathan. God bless you, Sir.

— Chuba Ugwu (@chonsyy) November 20, 2015
Happy Birthday to our former President . DR. GOODLUCK JONATHAN

— imran kazaure (@Emmykzr) November 20, 2015
Jonathan is by far the most liberal and friendly President Nigeria has ever had. Happy birthday GEJ @Gidi_Traffic

— Odeyele ayodeji (@Titilayodeji13) November 20, 2015
Happy birthday Dr Goodluck Jonathan. Father of real Democracy in Africa. Taught it. Lived it. #HappyBirthdayGEJ

— Mazi Gomez (@adindunnamdi) November 20, 2015
Feels real good 2 always remember I share the same birthday with Nigeria's democratic legend, Goodluck Jonathan. #HappyBirthdayGEJ

— Kate Tha Vincent (@ThaVincent) November 20, 2015