Taiwo Adelu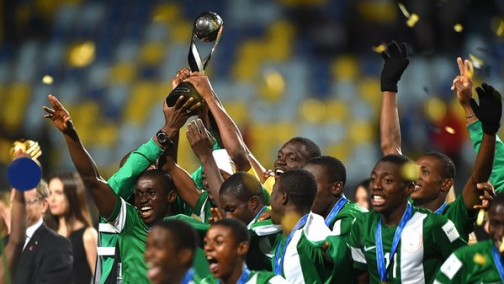 Nigeria Football Federation, NFF, has come out to say that the football body is cash-strapped and won't be able to pay the newly crowned U-17 World champions, the Golden Eaglets some of their bonuses.
General Secretary of the NFF, Dr. Mohammed Sanusi lamented that the lean purse of the football federation caused the unfortunate situation, adding that, this prevented the NFF from paying the Eaglets and their coaches winning bonuses of the semi final and the final matches of the FIFA U-17 World Cup Chile 2015 weeks after the end of the championship.
"The bonuses for the semi final and final matches of the World Cup have not been paid to the Eaglets. There is no money to pay these bonuses and we can't pay them for now.
"The problem is that we can't pay the money we don't have. There was a rumour that we gave the players N20,000 each as winning bonus. Where can we get the money? It's just a lie.
"As soon as we get enough money we will pay all the players. They have done this country proud by winning the U-17 World Cup and we must appreciate them by paying any money due to them," said the NFF scribe, Sanusi, noting that NFF will pay more than the rumoured N20,000 once they have the money.
The Emmanuel Amuneke-coached Golden Eaglets won a record fifth FIFA U-17 World Cup for Nigeria at the Chile 2015 tournament early this month.