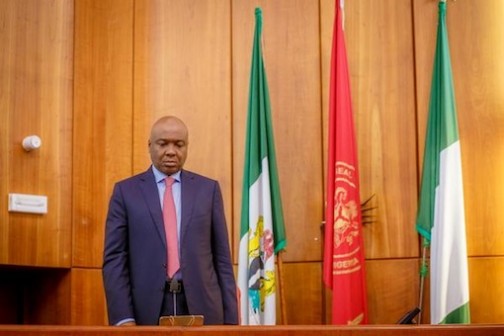 A Federal High Court, Abuja, will hear the Attorney General of the Federation counter motion on Senator Bukola Saraki's Code of Conduct trial on December 2.
Saraki, who is the President of Senate, is challenging the legality of the Code of Conduct Tribunal (CCT) to try him.
He joined the AGF, ICPC, EFFC, Inspector-General of Police, Mr Ataedze Adza, Mr Sam Saba, Mr Mohammed Diri, Mr M.S Hassan, CCB, CCT and Justice Danladi Umar, as co-defendants.
At the resumed hearing, Counsel to AGF, Mr Rotimi Jacobs (SAN), said that they were served with the court processes directing AGF to appear in court today.
Jacobs told the court that he filed Notice of Preliminary Objections on behalf of the AGF, EFCC, ICPC, IGP, CCB, CCT, challenging the jurisdiction of the court to entertain the suit.
Jacobs argued that the applicant's suit constituted an abuse of court process, saying that the suit did not disclose a reasonable cause of action.
According to him, all the reliefs being sought by the applicant are not available under the law.
He submitted that the sole issue for determination was whether the suit was not liable to be dismissed on the grounds of lack of jurisdiction, abuse of court process and incompetence.
Jacobs submitted that the court of appeal had earlier ruled against the applicant in the same matter where he urged the appellate court to nullify the charge against him at the tribunal.
He said the appellate court directed the applicant to go back to the tribunal and face criminal charges, saying that the tribunal was properly constituted, competent to trial the applicant.
Jacobs said that the application was an abuse of court process.
He said that the court had earlier refused an application brought by the applicant seeking for an exparte injunction restraining EFCC, ICPC, from arresting the applicant.
Saraki's Counsel, R. A Oluyede, told the court that the case was slated for the AGF to show cause on why the interim order earlier granted by the court was not obeyed.
It will be recalled that the Saraki also filed a fresh application seeking for enforcement of his fundamental right.