Ayorinde Oluokun/Kogi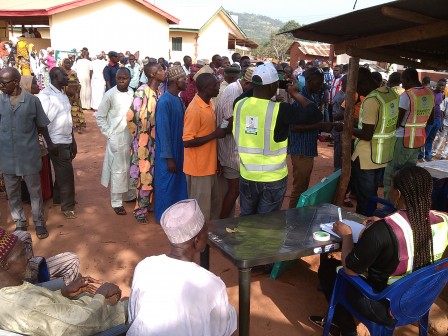 There was high turnout of voters as accreditation for the Kogi gubernatorial elections began across the state on Saturday morning.
On a drive from Lokoja to Odu Ogbogaya, the home town of Governor Idris Wada who is also the PDP candidate, it was observed that people were all ready for accreditation to start as early as 7.30 am.
Meanwhile, there was high turnout of voters of voters at Odu Ogbogaya ward 001 where Governor Wada is being expected for accreditation.
The governor was yet to show up as at 11 am when this report was complied.
However, it was observed that there were minor hitches with the accreditation as the card readers kept rejecting some fingers.
Also, the security presence is very low and electoral officials are finding it difficult to control voters who are on three long queues.
Sea of cameramen and journalists are waiting for Wada to show up for accreditation at his Odu Ogboyaga ward 001 polling unit.
The governor's expansive mansion is just about 500 metres to the polling unit.