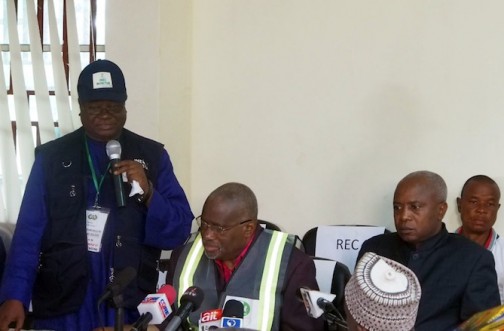 Just when many thought the All Progressives Congress governorship candidate, Abubakar Audu will be officially declared winner of Kogi governorship election, the Independent National Electoral Commission (INEC) declared the election inconclusive.
Announcing the results of the election, INEC said it reached the decision to declare the election 'inconclusive' after collation of results that showed a number of cancelled votes that was higher than the margin between the leading candidate and the runner-up.
After results from 21 LGAs were announced, Abubakar led the incumbent Governor, Idris Wada of the Peoples Democratic by 41,353.
APC polled 240,867 votes while PDP garnered 199,514 votes.
The commission said 49,953 votes were cancelled, which was higher than the margin between the leading candidate and the runner-up.
Announcing the decision on Sunday in Lokoja, the Returning Officer for the election, Prof. Emmanuel Kucha, said that INEC took the step because the 49,453 registered voters in the affected polling units in 18 local government areas were more than the difference between the votes of the two leading candidates.
He said that the cancellations were due to insecurity, ballot boxes snatching recorded in Adavi, Ofu, Ajaokuta, Bassa, Ankpa, Dekina, Ibaji, Idah, Okehi, Okene, Omala, Olamaboro, Yagba-West, Lokoja, Kogi, Kabba/Bunu, Igalamela-Odolu and Ijumu local government areas.
Kucha said that a supplementary election to determine the winner between the APC candidate, Alhaji Abubakar Audu and PDP candidate, Gov. Idris Wada would be held in due course.
He explained that the decision to declare the election inconclusive was in compliance with the provision of the Electoral Act.
NAN reports that from the official results released by INEC, the APC candidate scored 240,867 votes against PDP's 199, 514 votes.
Kucha, who is the Vice-Chancellor of Federal University of Agriculture, Makurdi, Benue, said that INEC was expected to conduct the supplementary election in the affected units within one week as provided by the Electoral Act.
He announced that only 511,648 out of 1,379,971 registered voters in the state were accredited to vote in the election.
Load more