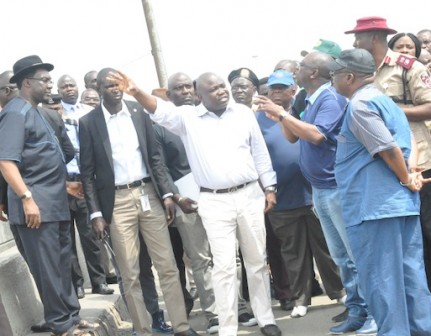 The Federal Roads Maintenance Agency (FERMA) on Sunday began the rehabilitation of the Tin-Can-Island Port portion of the Apapa-Oshodi-Oworonsoki expressway in Lagos.
A correspondent of the News Agency of Nigeria (NAN) who visited the two-kilometre stretch of the road reported that FERMA engineers were busy laying crushed stones and asphalt on the road.
The portion being rehabilitated covers between the first and second gates of the Tin-Can-Island Port.
Mr Kolade Kolawole, the agency's Progress Officer in-charge of Lagos-West, told NAN that the repair was part of a routine maintenance of the highway.
Kolawole complained that articulated vehicles blocking the highway were making the site inaccessible to the agency.
He, however, noted FERMA was collaborating with the Nigerian Ports Authority (NPA) security to clear the road so that its men could carry out the maintenance.
He explained that the agency chose to work on a Sunday, in order not to disrupt economic activities at the ports during the usual working week.
"What we are currently doing is emergency routine maintenance on the Tin-Can Island-Apapa-Oworonshoki Road.
"We are working on Sunday because the trailer drivers are usually on this road during the week days.
"And because of the activities at the ports on normal days, we usually do not have access to the road.
"Even, today being Sunday, we have access to work on the road because the Nigerian Ports Authority security personnel were drafted to assist us.
"We are also mindful of the economic activities at the ports.
"The routine maintenance includes de-silting and scarifying the road and resurfacing it with asphalt,'' he said.
Kolawole said that FERMA was collaborating with the various stakeholders and the NPA in order to remove a 20-ft abandoned container obstructing a portion of the highway.
The container, Kolawole said, has been obstructing the rehabilitation work, which he said, must be finished today.
Also speaking, Mr Polinus Eleta, the Assistant Port Security Officer of the Tin-Can Island Port, told NAN that his unit had to divert traffic to allow for the rehabilitation of the portion of the road.
"We had to divert the traffic through an inner lane to the second gate so that FERMA can work on the Apapa-bound section of the dual-carriageway.
"Our men are all on ground with the police, making sure that the trucks keep to one lane and not block the other access route for other vehicles,'' he added.