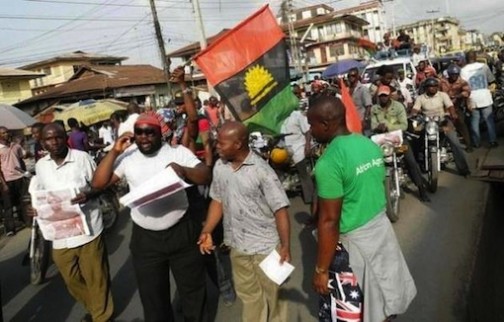 The Archbishop of Enugu, Anglican Communion, Most. Rev Emmanuel Chukwuma, has attributed agitation for Biafra to leadership failure and lack of guidance from elders.
Chukwuma expressed this opinion at the 2015 Adult Thanksgiving held at the Cathedral Church of the Advent in Abuja on Sunday.
According to him, the call for creation of Biafra Republic has shown that most of the elders have lost their respect, integrity, authority and stand before the youths in the south-east.
"Biafra is a complete distraction and it is the result of failure of leadership of the elders.
"I think the elders in the south-east should wake up and know that the young ones cannot be overriding the authorities of the elders.
"This calls for caution, unity and good examples by the elders," the clergyman said.
He urged the elders to bring the youths together, admonish and give them a sense of confidence so that they would be upright in their dealings.
"This is the time that we must begin to think how we will gather the youths and make them have confidence in our leadership so that we will be able to lead them aright.
"These children did not witness Biafra in those days and that is why they don't know what it is.
"I think they are frustrated, so we should address their unemployment, frustration and indiscipline. Once that is done, then this insurgence will stop", Chukwuma added.
He, however, said that the church had never been in support of violence in any ramification.
"The church is not in support of any violence; instead the church wants to know what their problem and grievance are so that they will see what they can do about it," he said.
Rev. Nicholas Okoh, Archbishop and Metropolitan Primate of the Church of all Nigeria, also called on Christians to eschew selfishness and give thanks to God at all times.
"We must live gratefully; we should show gratitude to God for what he has done like the sermon tells us clearly.
"We call for unity which is lacking in the relationship with fellow human beings in our country. We call for love, unity and oneness.
"We pray that we will experience it in our country so that we can develop and move forward", he said.

Load more