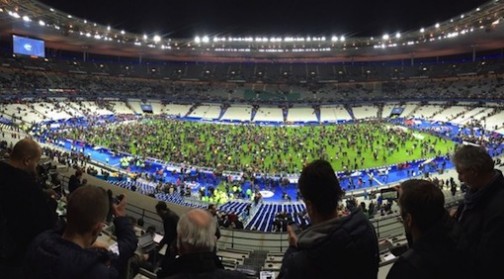 HISTORY channel on DStv will broadcast terror attacks on Paris, France in an exclusive premiere on On Sunday, November 29 at 7:30pm.
The premiere titled, Seven Days In Paris, is a one-hour special event documentary about the recent terror attacks in Paris, which claimed 130 lives.
The documentary looks at the tragedy in Paris in the context of a world faced with the threat of international terrorism. For the seven days immediately after the Paris attacks, two camera teams recorded exclusive interviews with many witnesses to the killings, doctors who tried to save lives, the owner of the Bataclan concert venue and leading Paris-based international terrorism experts.
The documentary team also filmed the dawn siege by police – and its aftermath – in the Parisian quarter of St Denis on Wednesday, 18 November.
The film recalls other major acts over recent years that have had a significant global impact, including: 9/11 in New York and Pennsylvania; the Madrid bombings in 2004; 7/7 in London in 2005; the Charlie Hebdo attacks in Paris in January 2015; the Russian plane brought down in Sinai; and the strikes in Beirut, which took place on 12 November 2015, the day before the Paris attacks.
Rachel Job, UK Director of Programming for HISTORY at A+E Networks UK, said: "This special documentary puts the Paris attacks in a wider context. With exclusive footage and first-hand accounts from the people of Paris, alongside expert opinion, we look at how recent acts of terror have changed the course of history."
Some of the people interviewed in 'Seven Days In Paris' are Dr Christophe Pudhomme who raced to the Stade de France after an explosion was reported. Arriving at the scene, he witnessed the second explosion, and then treated innocent survivors. Five days later, he treated suspected terrorists injured in the police shoot-out in St Denis.
Another interviewee, Dr Michel Bonnot, an off-duty anaesthetist who was enjoying his Friday evening after a busy week heard gunshots near his home, and raced to the Belle Equipebar where he saw several people with horrific wounds.
Also interviewed is Rafiaa Benabid who was making dinner for her family in her flat above La Carillon bar, where seven people were killed. She heard shots and witnessed the aftermath.
Similarly, Daniel Habrekon the owner of the Bataclan concert venue who he went into the hall hours after 89 people were murdered during a rock concert, describes the horror he witnessed.
Terror: Seven Days In Paris is produced for HISTORY® by NBC Peacock Productions.
It premieres in on November 29 at 7:30pm on HISTORY®, with a repeat on the channel on Wednesday, December 2 at 9:10pm.

Load more