Kazeem Ugbodaga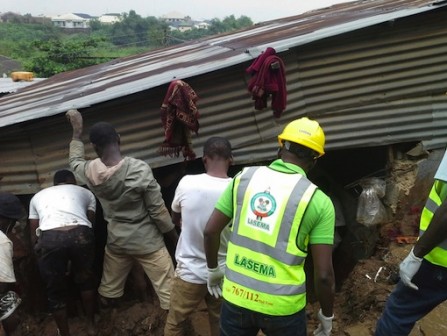 Tears flowed at the Lagos State Secretariat as the state Governor, Mr Akinwunmi Ambode on Thursday presented a N5 million cheque to Mr Okeoseye Odiah, who lost his four children in a mudslide disaster in Magodo area of Lagos, southwest Nigeria recently.
Four siblings of the same parents lost their lives after mud detached from a hill at Isheri, Magodo area of Ojodu Berger and landed on the building located on 50, Otun Araromi Street, Orisha, Magodo Phase 1 at 4:50am on Saturday, 7 November, 2015.
Commissioner for Special Duties and Inter-Governmental Relations, Mr Seye Oladejo, presented the cheque to the victims' father on behalf of the governor and sympathised with the family.
He said government would do everything possible to look after the family, saying that no amount or any form of government assistance could replace the loss, noting that the gesture would assist the family in securing accommodation so as to help them cope socio-economically and get on with life.
"As part of government's magnanimity and commitment in alleviating the impact of this disastrous and unfortunate incident on the Odia family, Governor Akinwumi Ambode has graciously approved financial assistance to Mr Odia Family. But we are using this opportunity to warn people who are living in dangerous areas to please vacate such residence.
"The incident is very unfortunate, we are not happy to do this. Imagine a family losing four children. But the lesson there is that some of these tragedies could be avoided," he said.
General Manager, Lagos State Emergency Management Agency, LASEMA, Mr Michael Akindele, said the agency had since the tragic incident been with the family on the recovery and the burial of the four children.
"While we commiserate with the family, we also urge people to begin to value their lives, they should vacate potentially dangerous areas. Prevention is better than cure. No amount of assistance can restore life. This is an incident that could have been avoided. The government is doing its best to ensure there is no recurrence of such disaster," he stated.
Akindele also raised the alarm over a looming disaster in Idumota Area of Lagos Island, saying that the agency just received a distress call from residents of about a distressed building that had partially collapsed three times, saying the landlord was on the verge of patching the building again.
"A 3-storey building at 1, Daddy Alhaja Street, Idumota bus stop, Lagos Island is reported to have collapsed three times this year and currently, it is in the process of being patched again.
"We are moving to the place now to avert loss of lives. We don't want anybody to die," he said.
Also speaking, Odia, who broke into tears, said the tragedy was just too much for him bear, saying that he would not return to the community where he lost four children.

Load more