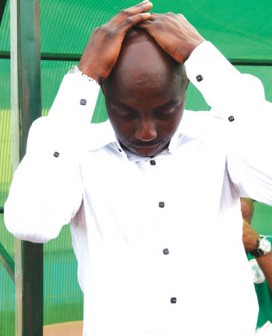 Taiwo Adelu
Former Nigerian midfielder, Garba Lawal has said that the abduction of the mother of Head Coach of Nigeria's U-23 Dream Team, Samson Siasia, will put him in serious psychological dilemma as the country gets set for the U-23 Africa Nations Cup in Senegal this weekend.
Lawal, who had 53 caps and scored five goals for Nigeria, said that it is a complicated situation for Siasia, whose 72-year-old mother is languishing in the den of kidnappers and again putting his concentration on the national assignment in Senegal at the U-23 Nations Cup.
The 1996 Olympic gold medallist said that though it would be hard for Siasia, he expects the coach to be professional in ensuring Nigeria wins in Senegal, which is the African qualifying competition for the football event of 2016 Rio Olympics.
"Siasia's dilemma is very complicated. The good thing is that it is Siasia that is involved not the players. The reality is that Siasia is in Senegal on a national assignment and he must understand one thing: that his career is on the line here. The issue of his mother, I believe will be handled by the authorities. So he needs the right frame of mind to lead the team to a good outing at the Nations Cup, which I believe he will succeed, " Garba said.
Meanwhile, Siasia and his Dream Team IV arrived Senegal Wednesday for the tourney.
Nigeria will begin their quest to qualify for the Rio Olympics when they take on West African rivals Mali on Sunday, 29 November at the Caroline Faye Stadium, in Mbour.

Load more