Taiwo Adelu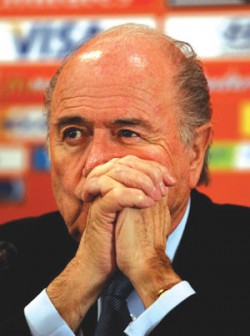 Former Executive Committee member of FIFA and the Confederation of African Football, CAF, Dr. Amos Adamu has said the once revered Sepp Blatter has been demystified in FIFA because of his current travails due to corruption charges.
Blatter's woes began after he won a re-election this year, but later announced that he would resign from the post of FIFA president amid the alleged corruption scandal.
Blatter' problem was compounded when Swiss investigators announced that they were investigating him in relation to payments made to UEFA president Michel Platini.
While Blatter and Platini denied any impropriety around the payments, major FIFA sponsors Coca-Cola, Visa, McDonalds and Budweiser issued public statements requesting that he resign for the good of FIFA.
On 8 October, 2015 he was suspended from FIFA for 90 days while investigations into payments made to Platini were conducted. And recently, the Ethics Committee of the world football governing body announced that Blatter and Platini may be banned for life.
"Nobody believes that a person like Blatter cam face this kind of travail in FIFA. I found it hard to believe that Blatter would not be at a FIFA World Cup to present trophies and medals. I must confess, I pity him for being in this mess," said the former Director General of National Sports Commission, NSC.
Adamu warned that there shouldn't be any sacred cow in FIFA regarding what the Ethics Committee us planning to do on Blatter's case.
He said: "If they want to ban Blatter so be it. I could remember that it was Blatter himself that made the rules and he is the one facing the music of the rules he made. I was affected once, but thank goodness today I'm off the hook."

Load more