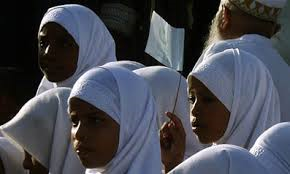 Al-Mu'minaat (The Believing Women) Organisation has criticized the discrimination and victimisation of Muslim women and girls in educational institutions and the National Youth Service Corps (NYSC) in Nigeria.
Al-Mu'minaat in a press statement issued by its National Amirah, Hajia Nimotullah Abdullateef, lamented that the discrimination, harassment and victimisation of Muslim girls and ladies from dressing in conformity with their religious beliefs is targeted at disenfranchising Muslim females from public funded secondary education and the National Youth Service Corps (NYSC).
According to the group, the hijab does not prevent them from learning and interacting with their peers, noting that some other non-Muslim women or ladies who have to wear specific clothes in conformity with their religions or ideologies are not harassed at the NYSC Orientation Camps.
She said, "It is sad that principals of public secondary schools in Lagos State would mete out corporal punishments on innocent secondary school pupils for wearing the hijab (Muslim women's scarf or head covering) above their uniforms outside school hours and the state's ministry of education would not prescribe disciplinary actions against such principals and school administrators. More pathetic is that even soldiers and military personnel would physically assault Muslim ladies for wearing hijab during the NYSC orientation camp trainings. A recent case is that of the ex-Benue State NYSC Camp Commandant, Captain Abalaba.
"We demand for a law that protects the rights of women in hijab so that permitting them to reflect their faith is not dependent on the idiosyncrasies of individuals at the helm of affairs."
She further stated that "the on-going orientation of the NYSC has thrown up cases of sisters being persecuted due to their refusal to wear the trousers and baby-size head coverings."
Al-Mu'minaat also made it clear that "the talk about security 'risks' are being addressed and sisters are cooperating by submitting to checks carried out by female security agents.
"Terrorists use various means that the society can't possibly do away with, such as cars and even ordinary mufti. The society cannot go naked because some misguided men, women and children wear plain clothes in their nefarious activities."
The group warned that the injustice and discrimination perpetrated against Muslim women and girls based on their religion and dressing threatens in the long run not only the discriminated Muslim women but the development of the Nigerian society as a unit.
It condemned recent comments by Prof. Wole Soyinka that permitting Muslim girls to wear hijabs along with their secondary school uniforms would divide students across religious lines.
"We urge Prof. Soyinka to visit the United Kingdom where Nigeria derives her common law and see that Muslim students are permitted to wear their hijabs to school."
The uniforms in use in public schools across Nigeria were bequeathed by the Christian colonialists, thus they are 'a faith-based one'.
"Allow Muslims wear the hijab because it does not in any way infringe on the rights of others. Societies thrive when there is equity, justice and the rights of individuals are protected.
"The Nigerian Muslim community is not requesting that non-Muslims be denied their rights, but we are simply requesting that Muslims should not be denied theirs. There is no doubt that the freedom of thought, religion and conscience is entrenched in the constitution of Nigeria and all other international charters and statutes. Muslims are a part of this country and the laws should not be disregarded when their honour and rights are affected," the group said.

Load more