By Abdullahi Umar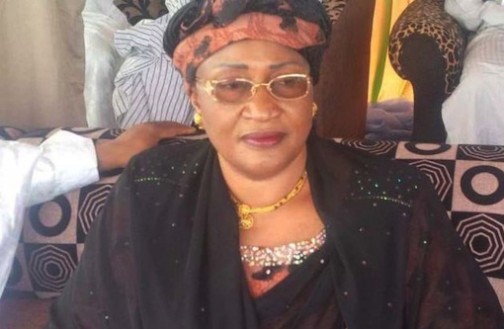 When the Taraba Election petition tribunal sacked Governor Darius Ishaku and returned Aisha Alhasan as governor, not many people were surprised. Atleast not people who have followed the issue closely.
This is because even if it had not ruled in favour of the senator that the PDP did not have a candidate in the elections, results from polling units during the elections indicated that she won.
So, anyway you look at it, she is a governor waiting to be sworn in. And the verdict which I hope will be upheld at the Appeal Court, is the beginning of a new chapter for Taraba, a state that has been enmeshed in crises for about four years.
When Aisha Alhassan declared for the governorship of Taraba State, not many people took her seriously and one cannot really blame those doubting Thomases, who thought it impossible when viewed against the backdrop of the system in Nigeria.
So far, not many women have contested the position of governor and gone as far as this point. Not that some women have not attempted to contest the position in the past, but none garnered the recognition this woman did.
In the 2015 governorship election, Aisha was the only female candidate, and it is worthy to note that she entered the field, without any known 'Godfather' and was able to prove that what a man can do, a woman can do it better.
Anybody who has followed this woman's career will discover that she always has her eyes on the ball.
Jummai Al-Hassan, a lawyer by training was the first female to be appointed Taraba State Attorney General and Commissioner of Justice. She is also the first woman to be appointed as Secretary FCT Judicial Council and later appointed the Chief Registrar of the High Court of the Federal Capital Territory, Abuja on 17 December, 2003.
After she retired from service, she went into business but she is also not new to politics. Apart from the fact that her father was a politicians, she contested the post of Vice President of the Student Union Government in 1977, at age 18.
She however gained national recognition in 2011 when she contested the Taraba North senatorial seat and defeated an incumbent, Senator, Anthony Manzo.
Now, that is no small feat, when considered against the backdrop of the fact that it is usually a Herculean task to defeat somebody in office in Nigeria. During her years at the Senate, she was not one of the bench warmers as she served on various committees and made valuable contributions on the floor.
Therefore, when this woman decided to run for governorship, it was not surprising to those of us who knew her, though it must have been different for others.
Though ably qualified, the odds were against her. Firstly, she was running for an office that has never been democratically won by a woman and secondly, in a state heavily polarised by religion and thirdly there were the political cabal in the state and the influence of TY Danjuma to deal with, but she was undaunted.
She did not allow those factors get in her way as she went into the race with a focus to capture the hearts of Tarabians. She knew she had a huge task of getting all parts of the state to buy into her candidature and this she did by running an all inclusive campaign.
Popularly known as Maman Taraba, she brought her motherly role to bear by trying to unite the people. This action of hers enabled her to gain the support of Christians and Muslims.
Despite the temporary setback at the governorship election where she was said to have lost to the PDP candidate, Dairus Ishaku, the Buhari administration nominated and appointed her a minister. Now, that is a huge endorsement on the character and personality of this woman, when viewed against the anti-corruption stance of the president.
In an interview recently, she demonstrated her love for Taraba people when she said she will not jettison her case at the tribunal despite the appointment. Alhasan has been vocal in advocating equal opportunities for men and women and has always harped on the need to women to be properly educated.
This victory therefore is a huge boost to the campaign for women empowerment as she will serve as an encouragement to first of all women of her region and the country at large. She has shown that it is not about talking and holding workshops but that a woman can actually perform in a male dominated field.
Though a woman, Dame Virgy Etiaba, has a little stint in the office when she became governor of Anambra State, following the controversial impeachment of Governor Peter Gregory Obi, if Aisha is eventually sworn in, she will be the first woman to be elected governor.
She as also been able to prove to people that you don't need anything apart from education and determination to succeed. This is the time for all women groups to rally round this woman and support her.
From Abdullahi Umar, Jalingo. You can contact him via email: [email protected]

Load more