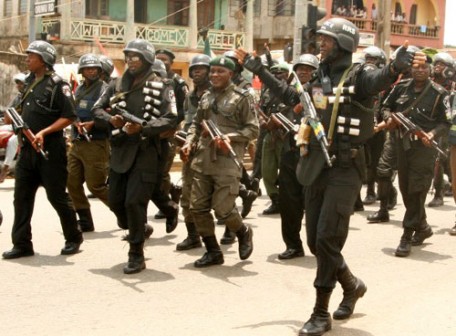 The Rapid Response Squad (RRS), Lagos State Police Command, on Thursday said it arrested five members of a syndicate who allegedly specialised in defrauding innocent members of the public by tricks.
This was contained in a statement in Lagos by the RRS Commander, ACP Olatunji Disu.
The statement said that they were arrested on Tuesday at about 3:00 p.m. at Okobaba Sule Street, under the Wilmer flyover, Apapa, Lagos following a tip off.
The statement said the suspects and others now at large usually presented themselves before members of the public as importers having goods from overseas to sell among other tricks.
"Under interrogations, they claimed to be a15-member gang with one Toronto as their leader.
"They confessed to always ask their victims, male or female to bring Naira, which they would either change into fake Dollars or British Pounds.
"They claimed to have various groups in different parts of Lagos metropolis. They were caught in the act, obtaining money from one Chiamaka Anusim," the statement said.
It noted that some of their victims who live in the area where they were arrested were at the RRS office in Alausa to identify the suspects.
According to some of the victims, the scene under the Wilmer flyover where the suspects were arrested was described as a dangerous spot, it said.
It said the victims also described the place as a "no-go area'' as students and ladies were often heard crying from the spot.
"The victim, Chiamaka Anusim, 26, said she was accosted by one of the suspects at Mile 2 bus stop on her way for a job interview in Ago, Isolo area.
"The man just walked up to me and introduced himself as a foreigner who was looking for ladies who could assist him to market some used phone sets and laptops he just brought from abroad.
"I told him that I was in a hurry to go for a nanny job interview.
"The man kept pestering me that he was going to reward me handsomely if I could assist him to market the products and I succumbed to pressure.
"He took me to a place under the Wilmer flyover where he asked me to pay some amount of money, but I told him that I had nothing on me, that it was only my ATM card was on me.
"I met two other men there," the statement quoted Anusim as saying.
"On that day, I gave him my ATM card and he went to a nearest GTBank and withdrew N40,000. The next day I went there, he collected my ATM card again and withdrew N70,000.
"The third time I went for the product to be given to me he collected the N60, 000 that was on me.
"When I inquired to know when he would give me the products, he also asked me to come with another N40, 000.
"He added that I should also bring a roll of white handkerchief, a walking stick and three fouls with which to do some rituals before the products could be given to me."
The statement said the N40, 000 was to be used to procure a week-old baby to concoct the charm.
"I didn't even know what had come over me and I was obliging him for whatever he asked me to bring.
"It was like a divine rescue when I saw the armed policemen who invaded the place and started shooting sporadically into the air to effect their arrest.
"I thank God for my life," it quoted the victim as saying.
The statement said investigation had begun and as soon as the probe was concluded, the suspects would be charged to court.

Load more