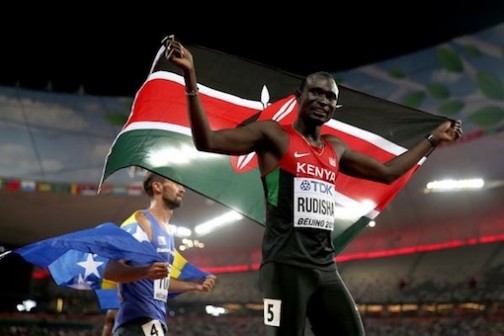 Double world cross country champion and Commonwealth Games bronze medalist Emily Chebet was among seven Kenyan athletes banned Friday for failing drug tests as some of the country's leading runners admitted the country has a serious problem with doping.
Chebet, gold medalist at the 2010 and 2013 International Association of Athletics Federations (IAAF) World Cross Country Championships, was suspended for four years after testing positive for diuretic and masking agent furosemide, Athletics Kenya said.
Inside the Games reports that the Kenyan athletics governing body also banned for four years, 400 metres runner Joyce Zakary and 400m hurdler Koki Manunga, who failed drug tests at the IAAF World Championships in Beijing in August.
They also tested positive for furosemide. The latest suspensions bring to 43 the total number of Kenyan athletes to have been banned for drugs.
Forty of them have tested positive in the last three years, including Rita Jeptoo, winner of Boston and Chicago Marathons.
Earlier on Friday, the Professional Athletes Association of Kenya (PAAK), whose President is the two-time London Marathon winner Wilson Kipsang, had accused the Government of not taking the issue of doping seriously.
They have called for the World Anti-Doping Agency, International Olympic Committee (IOC) and IAAF to provide more help to tackle the problem.
"Doping has not been accorded the seriousness it deserves by relevant authorities in Kenya," the PAAK said in a statement.
Some critics have reportedly claimed that Athletics Kenya chose to release their statement late on a Friday evening to coincide with Pope Francis completing a short visit to the country.
During his visit he had warned Kenya of the dangers of corruption.
Earlier this week, PAAK had occupied the headquarters of Athletics Kenya in protest at allegations of corruption and lack of effort to deal with the doping crisis.
The number of athletes testing positive has led to calls for the country to be investigated and possibly suspended along with Russia.
The situation was briefly discussed by the IAAF during its Council meeting Thursday.
"Bringing sanity and restoring trust lost by athletics fans is our ultimate goal," the PAAK statement said.
Chebet's suspension, however, will raise fears that the problem of doping is deep-rooted within athletics in Kenya.
The 29-year-old, a police officer, made her international debut 12 years ago in the junior race of the World Cross Country Championships in Lausanne, finishing fifth.
Her major breakthrough came in the senior race at the 2010 edition World Cross Country Championships in Bydgoszcz, Poland, when she outsprinted team-mate Linet Masai, then the world 10,000m champion, to claim victory.
Chebet won a second World Cross Country Championships title in 2013 when the race again took place in Bydgoszcz.
On both occasions, she helped Kenya win the overall team title.
Her best performance on the track came at last year's Commonwealth Games in Glasgow, winning a bronze medal in 32min 10.82sec as Kenyans filled the first three positions.
She had also finished fourth in the 2013 IAAF World Championships in Moscow,
Chebet's last race had been in May when she won the Freihofer's Run for Women in Albany, New York, a five-kilometre road race, for the third time.
Rumours she had tested positive for a banned performance-enhancing drug began to circulate in Kenya when she missed the national trials in August for the IAAF World Championships in Beijing.
International Athletics Consultancy (IAC), the Prague-based management company who represent Chebet, confirmed last night she had failed an out-of-competition test conducted on July 7.
In a statement, IAC's director Zane Branson revealed he had spoken with Chebet following the positive test.
"Emily communicated shock and confusion, with sabotage or medical negligence mentioned as a potential explanation, especially as Emily was on medication for toothache and strong headaches at the time of the out-of-competition test," IAC said in the statement.
The other four athletes banned were Agnes Jepkosgei, Bernard Mwendia, Judy Jesire Kimuge and Lilian Moraa Marita, all of whom are of a relatively low standard.
Jepkosgei, who has a personal best for the marathon of 2 hours 33min 18 sec, and Mwendia, another distance runner whose best for the half-marathon is 65min 01sec, both tested positive for the anabolic steroid metabolite norandrosterone and were given suspensions of four and two years respectively.
Marita, who has run 71:29 for the half-marathon, was suspended for two years for erythropoietin.
Kimuge, a runner who has not broken three hours for the marathon, was banned two years for the anabolic steroid nandrolone.
The IAAF are expected to appeal against the two-year bans as their rules state they should be suspended for four years, unless there are exceptional circumstances.

Load more