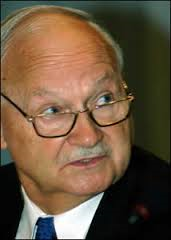 The Founding Executive Director of the UN Environment Programme (UNEP), Maurice Strong, has passed away at age 86, according to a UNEP statement issued on Saturday.
In the statement made available to the News Agency of Nigeria (NAN) in Abuja, the current Executive Director of UNEP, Achim Steiner described Strong as "a visionary and pioneer of global sustainable development.''
"Today the world mourns one of its greats. Maurice Strong was a visionary and a pioneer of global sustainable development.
"His courageous leadership allowed the Stockholm Conference of 1972 to make history by launching a new era of international environmental diplomacy which saw the birth of UNEP.
"UNEP is the first UN agency to be headquartered in a developing country,'' Steiner said.
He said that the late Strong accepted the appointment to become UNEP's first Executive Director and moved to Kenya to establish the organisation's iconic global headquarters on "what was then a coffee farm on the outskirts of Nairobi.''
"Strong will forever be remembered for placing the environment on the international agenda and at the heart of development.
"He shepherd global environmental governance processes — from the original Rio Earth Summit, Agenda 21 and the Rio Declaration to the launch of the UN Framework Convention on Climate Change and the Convention on Biological Diversity.''
NAN recalled that the late Strong charged world leaders during the 2014 climate conference to rise to their historic responsibility as custodians of the planet.
He urged them to take decisions that would unite both the rich and poor; North, South, East and West in a new global partnership to ensure common future.

Load more