Abiodun Onafuye/Abeokuta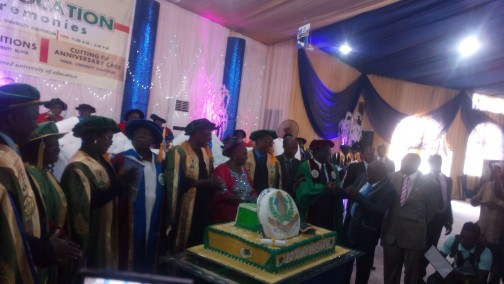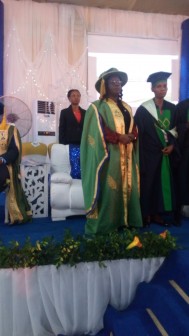 Former President Olusegun Obasanjo stunned many people on Saturday when he declared that he accepted the honorary award from Tai Solarin University of Education, TASUED, Ijagun because of his respect for the late educationist, Tai Solarin and love for the late Chief Mrs HID Awolowo.
Obasanjo stated this after he was conferred with an honorary doctorate of Education in Political Science by the institution.
The institution, which is the first University of Education in Nigeria, Saturday celebrated a twin event, its 10th anniversary and 6th & 7th Convocation ceremonies.
Obasanjo and two other eminent Nigerians were conferred with various doctorate degrees by the university.
Others are Post-humous award to the late matriarch of the Awolowo dynasty, Mama Hannah Idowu Dideolu Awolowo and business mogul, Alhaji Aliko Dangote.
Speaking after the award, Obasanjo maintained that he never wished to get any award, saying that he rejected an award from Bells University of Technology, Ota.
According to him, "I don't get involved in honorary award, not even one from Bells University of Technology. There are many reasons why this is important to me.
"First, the person and personality this great institution was named after was a great man this state has ever produced. During his lifetime, I had a lot of time to relate with him. His memory is something one can never fault.
"Secondly, wherever the name Mama Awolowo is mentioned or she is to be honoured like this, we must all join hands to be part of the celebration. She was our mother and wife of our Baba Awolowo.
"Thirdly, a decade in one's life is not a joke. So I believe coming here to be honoured with those of you here in the institution, is an exercise of honour and lastly, this is the first University of Education in Nigeria, and any agency or institution that takes education seriously, we must support them. These are the reasons that made us to be here today."
The former President charged every individual to see education as a catalyst for development, which according to him, "is a meal ticket and means of breaking poverty cycle."
He challenged government at all levels to see that importance is accorded education, which in turn must be able to provide jobs and opportunity to contribute to the society.
"If university is for development, then education is also for development. Anywhere in the world that we have university education, it should be for development in all aspects of life. We should not disregard he University of Education, it is a meal ticket and a means of breaking poverty cycle. If after education, you cannot provide for yourself, then you don't have education.
"I challenge people at the government level, the federal, state, local, community, even, at the family levels, how do we ensure that with our children's education, we can have employment, they can be seen as contributing meaningfully to the society? If we can't do this successfully, we are deceiving ourselves," Obasanjo declared.
He expressed satisfaction with the level the institution has attained, as he went memory lane on how the idea was mooted about 12 years ago when he was the President.
In his own address, Visitor to the institution and the executive governor of the state, Ibikunle Amosun charged the students to continue to sustain and promote the ideals of the institution and as well be good ambassadors of the school, wherever they find themselves.
He reiterated his administration's appreciation of as he announced automatic employment with the state government for all the first class graduating students as he did for the last graduands.
Both the Pro Chancellor, Prof. Olufemi Bamiro and the Vice Chancellor, Prof. Oluyemisi Obilade listed the challenges facing the institution, which they attributed to finance and unionism.
A total 5,970 students graduated with first degree. Full time students who graduated were 4,552 while part time graduands were 1,418.
In all, 12 students graduated with first class degree with Sholanke Oyindamola Atinuke emerging as the best overall graduating student in the university.

Load more