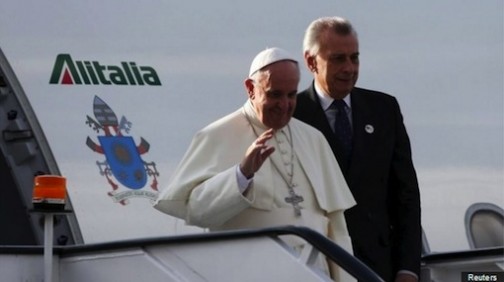 Pope Francis arrived on Sunday in the Central African Republic, with Muslims as well as Catholic representatives welcoming him at Bangui airport in the hope that he would promote reconciliation in the country torn by inter-religious strife.
El' Adji Tchakpabrede, a Representative of the country's Muslim community, said Pope had not come to Central Africa for the Catholics, but for Central Africans.
He said the coming together should serve as a good sign of reconciliation between Muslims and Central Africans.
Francis was welcomed by interim President Catherine Samba-Panza.
Among the crowd that had gathered to see the pope, many expressed hope that he would help to reconcile Christians and Muslims.
CAR has suffered sectarian violence since mainly Muslim Seleka rebels overthrew President Francois Bozize, a Christian, in March 2013.
Thousands have been killed, and nearly one million people were displaced at the height of the conflict in early 2014.
There was concern that extremists from either side could use the papal visit to break the tense calm and instigate new violence.
Francis was expected to use the Popemobile during his visit, in spite of concern that local authorities would not be able to guarantee his security.
Local security forces were expected to be backed up by more than 10,000 UN peacekeepers and French troops present in the country.
The pope came to CAR after visiting Kenya and Uganda, where he celebrated masses drawing hundreds of thousands of people.
Francis' African tour was his 11th trip abroad since he became pope in 2013.
Africa was home to an estimated 180 million Catholics, and their numbers are growing faster than anywhere else in the world.

Load more