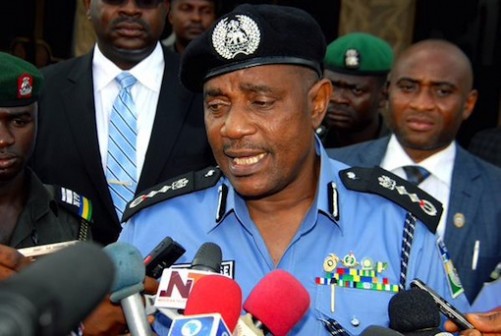 The Police in Bayelsa said on Sunday they had strengthened security in the state towards ensuring a hitch-free Dec. 5 governorship election.
This is coming just as the Inspector-General of Police (IG), Solomon Arase, is scheduled to pay a visit to the state on Tuesday.
The Police Public Relations Officer, Bayelsa Command, ASP Asinim Butwat, told NAN in Yenagoa that Arase is expected to address policemen deployed to ensure security during the election.
"The Inspector General of Police, Mr Soloman Arase, is expected in Bayelsa on Tuesday to address officers and men deployed for election duty," the PPRO said.
NAN reports that other security agencies are deploying men and equipment from neighbouring states to bolster security ahead of the election.
Scores of Armoured Personnel Carriers were seen moving into Yenagoa, the state capital on Saturday and Sunday morning.
The state Commissioner of Police, Nasiru Oki, had told NAN that some 9,000 policemen would be deployed for the governorship election.
Meanwhile, Operation Pulo Shield, the joint military operation deployed to the Niger Delta to secure oil installations, has said that it will be on stand-by to assist the police and other security agencies in providing security during the election.
The Media Coordinator of the operation, Lt.-Col. Isa Ado, told NAN on Sunday that troops were ready to provide back-up services and reinforcement during and after the election.
"The police and the Department of Security Services will form the nucleus of the security architecture for the election, while Operation Pulo Shield will be on standby to provide back-up.
"We are on alert to ensure that we have a smooth election in Bayelsa," Ado said.
NAN learnt that the Central Naval Command and the Nigerian Air Force will be moblised to provide security during the December 5 election.

Load more